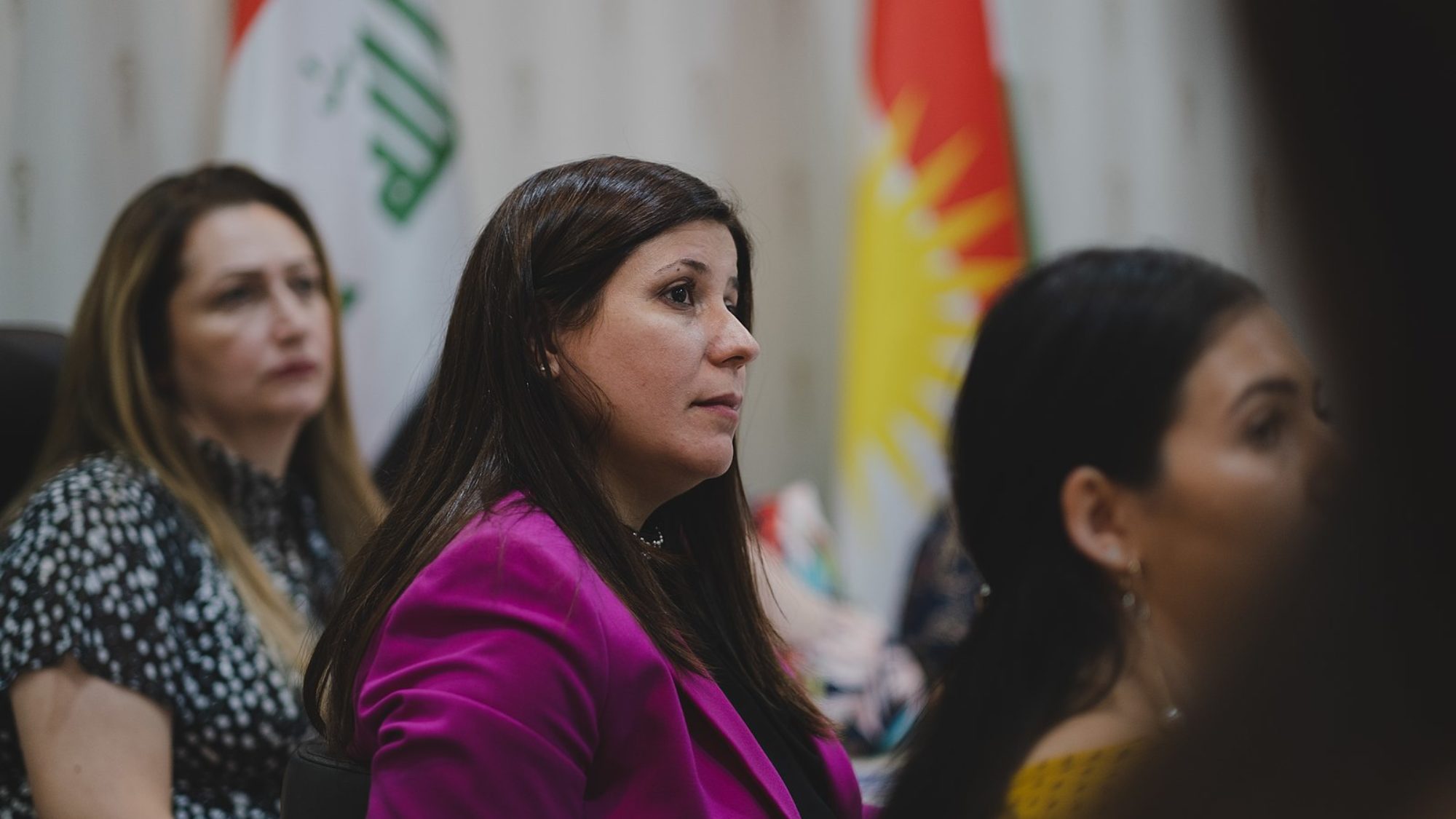 Category:

Society & Culture
Title:

Gender Issues in Kurdistan
Author:
Michael M. Gunter
Date Published:
December 30, 2019
In the Kurdistan National Congress (KNK) headquarters in Brussels, one may be surprised to find that the co-chair rule governing the activities of the congress requires joint male and female leaders to share the office. As inefficient as such a dual head might seem, it sets the stage for gender equality. Overall, the duties of both men and women in the Kurdish movement leave no time for marriage or other traditional gender roles. This is particularly true of the Kurdistan Workers' Party (PKK) and its related organizations, such as the Syrian Kurdish Democratic Union Party/Peoples Defense Units (PYD/YPG).
Historically, Kurdish women have struggled to make their voices heard. Indeed, in Kurdish, among many other languages, the word for voice—deng—is the same as that for vote. However, in a society that has relied on the voice for transmitting knowledge and information, denying women their voices has given men a monopoly over public speech. For a while, Kurdish women have had their voices marginalized by the bonds of patriarchy. For example, newly married Kurdish women had to stay silent in front of their father-in-law and other authority figures within the family. Only as women rose in family hierarchies through work and childbearing were they allowed to raise their voices and, in effect, have a vote in familial affairs. This exclusion of women from positions of power was reinforced by treating women's voices as immodest or shameful.
Kurdish women are not alone in having the patriarchy delimit their voices. Even the myths of ancient Greece depict garrulous women whom the male gods command to remain silent or be struck dumb. Even when they do speak, ancient Greek and Roman authors usually describe women as whining, barking, yelping, or wincing, instead of engaging in reasoned conversation. Even today, a woman raising her voice in the Western public is more likely to face insults and hate speech.
In recent years, women's rights have become an important part of human rights. Nevertheless, like most traditional Islamic societies, Kurdish men have historically had certain rights and responsibilities denied to women. Men are supposed to govern, fight, and support their families, while women are supposed to bear and care for children, manage their households, and obey their husbands.
On the other hand, compared to other Islamic societies, Kurdish women have at times exercised more freedom. Travelers have noted how Kurdish women usually go unveiled and, although arranged marriages still exist, even in marriage, women can sometimes be wooed and won. Wives, too, have been treated more equally by their husbands compared to other Middle Eastern locales. Kurdish women have had more financial security than women in neighboring societies and can more easily succeed their husbands as the head of a family, even when they have male children.
Kurdish women have also occasionally played prominent roles in politics academia. For example, Asenath Barzani (1590-1670) was renowned throughout Kurdistan for her knowledge of the Torah and Jewish law. She was also the first female head of a yeshiva, a religious school where only men studied, and was recognized as the first and only female rabbi in premodern Jewish history. More recently, Rewaz Fayeq Hussein was elected the new Speaker of the Kurdistan Regional Government (KRG) parliament in July 2019. More than 32 percent of the current KRG parliament elected in September 2018 are women.
The Kurds have seen various women lead in the military, as well. Lady Kara Fatima of Marash led hundreds of Kurds against the Russians in the Crimean War (1853-1856). Additionally, Adila Khanem (1847-1924) was a famous chief of the Jaf tribe. She built a bazaar and gardens in the Persian style, presided over a court of justice, and saved the lives of several British soldiers stationed in Halabja during World War I. Although actually an Assyrian, Margaret George (1942-1969) is a more recent example of a Kurdish female warrior.
In recent years, Kurdish political parties in Turkey have mandated gender equality in their leadership roles. Abdullah Ocalan, the leader of the PKK, has strongly advocated for a movement for women's freedom, equality, and democracy based on the science of woman—jineoloji in Kurdish. Some have recognized jineoloji to express perspectives and highlight women's equal participation in all aspects of life as the fundamental demand of the revolution.
In northern Syria, women, in general, have been given the right to divorce, to inherit property on an equal basis with men, and to keep their children and their homes in a marital breakup. Polygamy, child marriages, and forced marriages have also been banned. The Social Contract of the Democratic Federation of Northern Syria proclaims the elimination of discrimination against women in all spheres of life, mandating a 40 percent quota of women in the political sphere on across all levels, and Shariah law provisions that gave a woman's testimony in court only half the weight of a man's testimony have been eliminated.
Iraqi and Iranian Kurdish parties lag behind in such leadership roles. Nevertheless, "compared with women's activism in the rest of Iraq, Kurdish women's activism has benefited from a more stable social, political, and economic situation." In addition, there are currently three gender-based studies centers in the Iraqi Kurdish region: the Gender and Violence Studies Center established in 2010, the Kurdistan Center for Gender Studies in 2014, and the Center for Gender and Development Studies in 2016. A Free Women's Academy was also established in 2000 to provide training for both female and male militants to improve their political and military competences from a feminist perspective.
Despite these positive examples, women's rights are still an issue in Kurdistan. Kurdish women in Turkey, for example, have been subjected to various forms of state violence including rape and sexual harassment, especially during the years of violence associated with the PKK in the 1980s and 1990s. The KRG in northern Iraq has recently sought to deal with honor killing, the murder of women by their own families because the women have somehow dishonored their families. Similar concerns regarding honor killings have also been expressed in Turkey, and female genital mutilation (FGM) is another frequently ignored issue.
Meanwhile, the gendered face of war has attained an unprecedented dimension in the Syrian Civil War. ISIS and other jihadist groups, as well as the Assad regime and sections of the so-called Syrian Free Army, have employed sexual violence to the extent of feminicide—the systematic, planned, and conscious murder and degradation of women as tools of war. Arzu Demir, the Turkish author of a book on the Women's Defense Units (YPJ) militias, concluded: "There are always men thinking that women are slaves, but when women are an armed force, men are scared of them."
Although the KRG parliament now requires that women constitute 30 percent of its membership, Dr. Choman Hardi, the founder of the Center for Gender and Development Studies at the American University in Sulaimani, questions the effectiveness of such a quota system, arguing that "many of the women who ended up in these positions were chosen because of their political affiliations, regardless of their capabilities as politicians and leaders." Hardi added, "In fact, some people believe that they were chosen intentionally to be ineffective so that they don't threaten the system."
In Kurdistan, much remains to be done regarding women's rights, and progress in the region has too often been inadequate. Nevertheless, compared to women throughout most other Middle Eastern societies, Kurdish women have benefitted from new globalized standards of human rights that include women's rights.
. . .
Michael M. Gunter is a professor of political science at Tennessee Technological University in Cookeville, Tennessee. He also is the Secretary-General of the EU Turkey Civic Commission (EUTCC) headquartered in Brussels. In the past, he taught summer courses at the International University in Vienna, as well as courses on Kurdish and Middle Eastern politics, among others, for the U.S. Government Areas Studies Program and U.S. Department of State Foreign Service Institute in Washington, D.C.