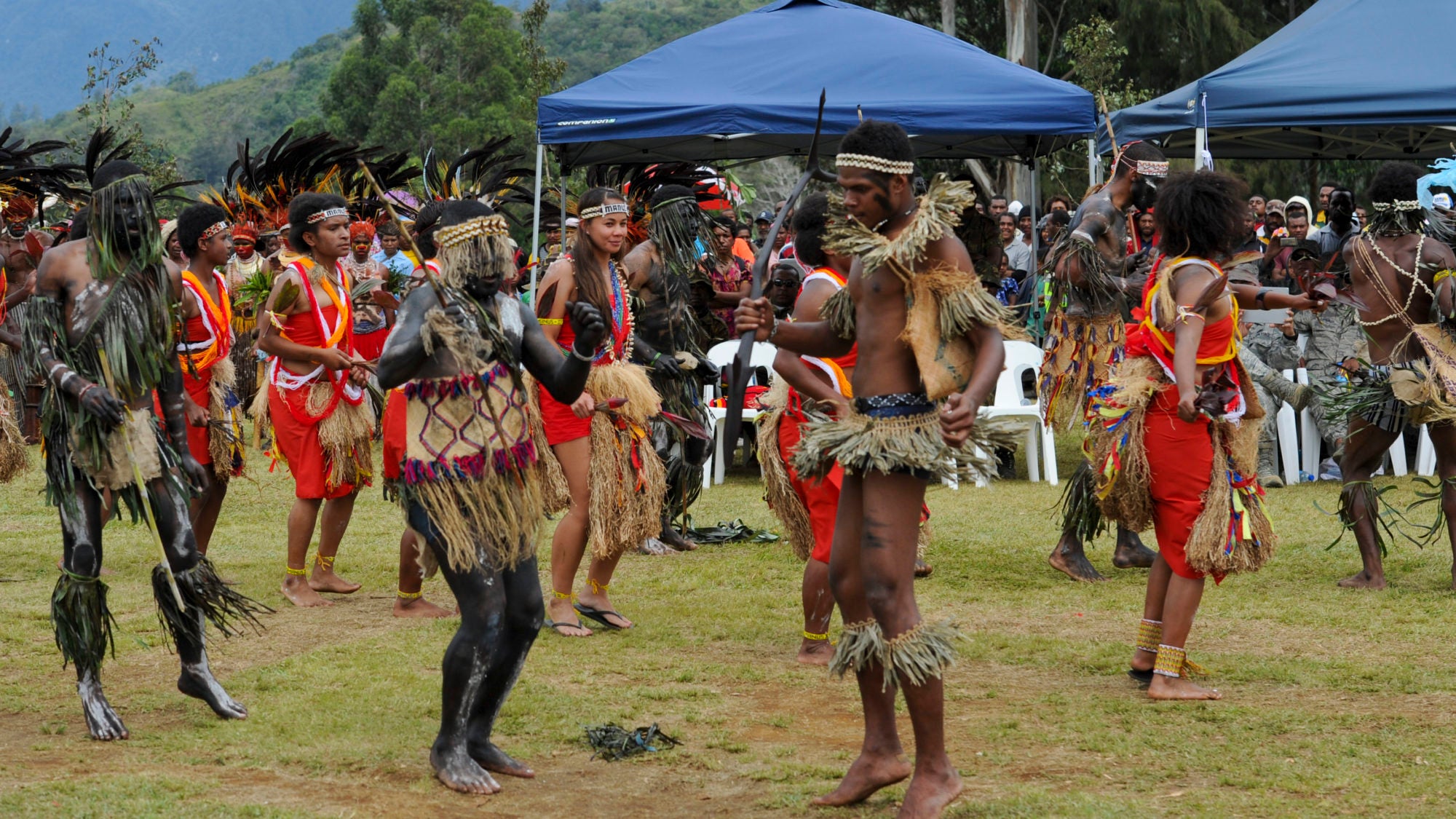 Category:

Conflict & Security
Title:

Nation Making and Nation Breaking in the Pacific Islands: the Case of Papua New Guinea
Author:
Sinclair Dinnen, Arichika Okazaki, and Grant Walton
Date Published:
May 5, 2020
In light of China's expanding influence, traditional donors to Pacific Island states have significantly increased their engagement in the region. Australia, the region's top bilateral donor, is implementing a "step up" heralded by the 2017 Foreign Policy White Paper with a strong focus on regional security cooperation. The initiatives announced have included a $2 billion infrastructure facility, the promise of widespread Internet and electricity, an expansion of its labor mobility scheme, and the creation of new diplomatic missions. Australia's renewed activism has been matched by similar moves of other nations, including New Zealand, the United Kingdom, France, Japan, the United States, and Indonesia. As Western nations and China tussle for influence in the Pacific, they are faced with the intrinsic challenges involved in engaging with some of the most fragmented nations in the world.
These challenges are most evident in Papua New Guinea (PNG), whose population of more than 8 million comprises hundreds of local ethnic groups speaking over 800 different languages. PNG's internal complexity and fragile national coherence are indicative of the difficulties confronting external efforts to exert influence and control in this part of the world, both with respect to individual countries and a wider region marked by extensive diversity. In this article, we argue that historical and recent developments in PNG and neighboring countries will mean traditional donors face significant policy tensions, which could cause them to trip, rather than step up.
The fractious nature of the PNG nation-state was apparent before its independence from Australia in 1975, which was preceded by the outbreak of several secessionist movements, most dramatically on the island of Bougainville and, to a lesser extent, the Gazelle Peninsular in New Ireland and parts of the Papuan region. These internal tensions were successfully defused at the time, largely through establishing a system of provincial governments. Yet, one long running independence movement has once again proven a threat to national sovereignty.
Historically, secessionist sentiments on Bougainville have centered on a strong sense of indigenous identity and the perceived unfairness of benefit sharing in the giant Panguna copper mine, which commenced production in 1972. Many locals felt aggrieved with what they viewed as the disproportionate outward flow of mining benefits to serve national rather than local interests. Indeed, prior to its forced closure in 1989, the mine accounted for around 44 percent of PNG's national exports revenue. The Bougainville Crisis (1988-1997) vividly demonstrated the underlying fragility of the young nation. In addition to the significant loss of lives, collapse of government services, and destruction of infrastructure, the crisis had a devastating local and national economic impact.
Hostilities between PNG and Bougainville ended with the signing of the Bougainville Peace Agreement (BPA) in 2001. Australia's role as the key external facilitator of the peace process required a delicate balancing act in its dealings with PNG and Bougainville parties respectively. The former were dissatisfied with Australian support of its rebellious province. The latter remained deeply suspicious of Australia's historical association with the mine and its supply of military equipment to the PNG military, which committed serious human rights abuses during the conflict. The BPA devolved significant powers to a newly established Autonomous Region of Bougainville (ARB) with its own constitution and autonomous government. However, final determination of the highly contentious issue of Bougainville's future political status was postponed for ten to fifteen years until a referendum could be held to decide this issue, including the option of independence.
The referendum was finally conducted in November 2019 and resulted in an overwhelming vote (98 percent) in favor of Bougainville's independence. PNG now faces one its biggest challenges as an independent nation. This time around, it is not just the economic threat Bougainville's possible departure poses that concerns policymakers in Port Moresby. Rather, it is the demonstration effect such an outcome might have on other parts of PNG. This is particularly true in island provinces, such as New Ireland, with valuable extractive resource projects. These projects are viewed as a means to financing greater local autonomy or even independence. While independence is a less practical option for landlocked provinces, demands for increased autonomy are regularly heard. Lack of services and resentment over the use of "local" resources to promote "national" development fuel powerful feelings of relative deprivation, as they did earlier in Bougainville. Such sentiments have contributed to the re-drawing of existing administrative borders in some areas, including the creation of two new Highlands provinces.
Recent decades have witnessed mounting frustration with the ostensible benefits of nationhood beyond the urban enclaves where wealth and power are concentrated. Research has documented the decline of basic services across the country, while endless reports of corruption continue to erode state legitimacy. Serious insecurity in PNG's burgeoning towns and violent local conflicts in the Highlands add to the growing disillusionment of many citizens. Evidence of increasingly fraudulent election practices—accompanied by violence, bribery, vote buying, and money politics—has further undermined faith in the state's ability or willingness to deliver on its side of the social contract.
While Bougainville's troubled history helps to explain the recent referendum result, it is worth noting that the majority of voters were born after the conflict ended. Many Bougainvilleans spoken with during the referendum indicated that negative perceptions of PNG's current situation were as important, if not more so, in influencing voting choices as the deep well of historical grievance. Voters highlighted PNG's endemic problems of corruption, lawlessness, and violence, as well a perceived dominance of national politics by leaders from a particular region. Such perceptions are by no means confined to Bougainville but, when added to its experience of recent conflict, appear to have persuaded voters that independence was the only way forward despite the profound practical challenges involved.
Though the outcome of the vote was met with joy and celebration across Bougainville, the referendum remains non-binding: any change to the islands' political status must be endorsed by PNG's national parliament. PNG and Bougainvillean parties will now commence consultations to chart the next steps. Although PNG's Prime Minister James Marape has recently hinted that these might take up to five years to conclude, Bougainvilleans are unlikely to tolerate any prolonged delay in actioning their unequivocal desire to go it alone. Likewise, unless significant improvements occur in the quality of governance and political representation, including in terms of security and service delivery, calls for greater autonomy are likely to grow louder in other parts of PNG.
The result of the vote yet again places Australia in an awkward position. Having made a significant commitment to the peace process under the BPA, Australia has a major interest in ensuring that both parties abide by it. This includes the delicate task of encouraging an understandably reluctant PNG to engage in serious discussions with Bougainville around its possible independence. Should independence be eventually granted, it is likely that substantial assistance would need to be provided by Australia to sustain the new and fragile nation. Such a role could, in turn, place additional pressure on Australia's important and complicated relationship with PNG.
Bougainville's referendum result has also given hope to other independence movements in the broader region, although with much slimmer prospects of changing the status quo. For example, the fifty-year struggle for West Papuan independence faces multiple challenges that suggest independence, while worthy, is unlikely. Local conflagrations between militia and the Indonesian armed forces, as well as urban protests, have once again drawn international attention to West Papua's struggle. There is a natural empathy for the plight of West Papuans amongst many grassroots Melanesians, and more high-profile Pacific leaders have spoken against violence and expressed their support for the West Papuan cause. However, most Pacific governments remain more circumspect in regard to their support.
While the diplomatic balancing act for Australia in the Indonesian case is less difficult than Bougainville, if Pacific nations and leaders continue to rally to the West Papuan cause, Australia may be forced to reconsider prioritizing its relations with Indonesia—a key trading partner—over human rights concerns and calls for independence.
Growing geo-strategic competition will further complicate the challenges in balancing the policy tensions we have described. Diplomats from Australia and other traditional donors are increasingly concerned about China's rise in the region.  In particular, there is concern China will gain a foothold in a newly independent Bougainville, which desperately needs external support to progress and sustain its chosen political future. While Western diplomats fret about China's rise, many Pacific Island leaders have demonstrated themselves adept at leveraging the growing strategic competition in the region for their own national interests.  If they can hold their nation-states together, Pacific Island governments potentially stand to benefit the most from the new great game for the Pacific.
. . .
Sinclair Dinnen is a Senior Fellow in the Department of Pacific Affairs at the Australian National University (ANU). He has published extensively on issues of justice, policing, conflict and state-building in the Melanesian Pacific. He was a member of the ANU-UPNG observer team during last year's Bougainville referendum
Arichika Okazaki is a Program Officer at the Development Policy Centre. He holds a Bachelor of Arts in Anthropology and Development Studies from the ANU. He assists in the coordination of the Centre's events, including the annual Australasian AID Conference and the PNG Update.
Grant Walton is a Fellow at the Development Policy Centre and Chair of the Transnational Research Institute on Corruption. He is the author of the book Anti-Corruption and its Discontents: Local, National and International Perspectives on Corruption in Papua New Guinea.