On March 2, 2021, Dr. Kenneth M. Pollack sat down with GJIA to discuss the Biden administration's approach to utilize the Abraham Accords both to normalize relations between several Arab states and Israel and how they might influence the United States's stated goal of returning to the Iran nuclear deal.
GJIA: In the aftermath of the Abraham Accords, you argued in Foreign Policy that the Accords "are bringing to an end the great Middle Eastern conflict of the 20th century, but the problem is (that they) may be the harbinger of the great Middle Eastern conflict of the 21st century, which would be the Sunni states and Israel against Iran and its Shi'a allies." The political division between the majority Sunni and minority Shi'ite communities has fluctuated for centuries. How would you rate the danger of a broader Sunni-Shi'a faceoff in the near-to-medium term? How does the Biden administration's expressions of a desire to return to the Iran nuclear deal fit with an underlying trend toward Sunni-Shi'a confrontation?
KP: Naturally, the Shi'a states' and Sunni-states' division is more complex; many Sunni states include Shi'a, and vice versa. Nevertheless, it is fair to say that the governments tend to be dominated by one group and see their domestic minorities as a threat or, in the case of Bahrain, see its majority as the threat. So, these states act in unison and with a degree of solidarity. This is more the case with the Sunni Arab states than with the Iranians. One of the great mistakes Americans make is to overly focus on the Iran-Shia connection and disregard what, in practice, has been a more ecumenical approach by Iran. In truth, Iran is not terribly interested in the Sunni-Shia conflict; it's simply that Iran gets more support from the region's Shi'a minorities because the Shi'a more often need help. But the Iranians are glad to support anyone willing to try to overturn the status quo. They have supported a wide variety of different opposition groups—from secular Marxist groups like the Kurdistan Workers' Party (PKK), to Sunni Islamist movements like Hamas and the Muslim Brotherhood—and you do not get more Sunni than that. They also have a bizarre relationship with Al-Qaeda.
On the Sunni side, they often try to turn this into a Shi'a-Sunni conflict. This is especially true of the Saudis. If it is just the Saudis against Iran, that means twenty-seven million Saudis against eighty million Iranians. But if the Saudis can turn their conflict into a Sunni-Shi'a fight, that means 1.2 billion Sunnis against 200 million Shi'a. This also resonates with other Sunni states because they too do not like Iranians, both because they are Shi'a and because they do not like how they appeal to their own internal dissidents, some of whom are Shi'a. As far as Israel is concerned, it has a deeply antagonistic relationship with Iran, and is just looking for allies. The Arab states who are anti-Iran are terrific allies, and so the states willing to ally with Israel just happen to be Sunni.
The risk of wider regional war between these different coalitions is significant. While I cannot specifically rate the risk, it is way too high for comfort. A survey of current regional trends already shows this; in fact, the Accords are indicative of this danger. The Emiratis and the Bahrainis, and eventually I expect the Saudis, Jordanians, and Moroccans, will all be brought in to band together with Israel to resist Iran and some of the more militant Sunni movements. In the last several years, we have already seen new conflicts emerge along these lines. We are seeing more civil wars, the Saudis and Emiratis intervening in Yemen, the Saudis being attacked on a weekly basis by Iranian-backed groups from Yemen and Iraq, and Iranian attacks on Gulf oil exports. All of this was previously unimaginable. For every hopeful element of restraint, I could point to three or four counterexamples in the other direction.
Much of this conflict is being unleashed by geostrategic changes in the Middle East, the most important of which is US disengagement. Many would object and say that the United States is not disengaging at all; after all we still have 60,000 troops in the region. But this is a red herring; it is not about the troop presence. It is about what we are doing with our troops, our diplomacy, and even our economic policies. The fact is that Washington no longer engages in Middle East problems like it once did. Our last two presidents have said it bluntly and clearly, "we do not want to engage in the problems of the Middle East like our predecessors did, and we are not going to do so." That policy shift has created a sense of opportunity among US adversaries and a sense of fear among our allies. You can scream until you are blue in the face that neither our enemies nor our allies should feel that way, but it does not matter. It is how they interpret the situation, and they are acting on these perceptions. We would be foolish to assume otherwise.
The question of the Joint Comprehensive Plan of Action (JCPOA) looms extremely large in this framework. When I talk to leaders of our allies, they are looking at what Biden will do with the Iran nuclear deal as a bellwether for how he will approach the region. They are frightened Biden will continue to treat the Middle East the way Obama and Trump did. They all recognize Biden is a different person. Most like Biden, and many have relationships with him from when he was Vice President and even Senator. But what they are afraid of is that the Democratic party is very much in the Obama camp. They recognize that in the wake of the pandemic, Biden has his hands full with domestic issues. He is interested in foreign policy, but they worry that he wants to deal largely with China, Russia, and Europe. Clearly, Biden is not going to ignore the Middle East. But it is already clear that it is not his priority. Even if Biden wants to handle the Middle East differently from Obama and Trump, because of the other issues he faces, he might not be able to do so. So, our Middle East allies have started asking themselves the question, "how are we going to provide for our own security in a world where the United States, after a seventy-five year commitment, is no longer willing to do so?"
GJIA: Do you have a sense of whether the Biden administration sees rapprochement with Tehran—and therefore potential alienation of longstanding US allies in the region—as the preferred way to restrain Iran's direct and indirect expansion?
KP: The Biden administration does believe that engaging with Tehran can be part of an overarching solution. They want to see how much they can get done with the Iranians based on negotiations. However, they have also indicated that they do not expect that negotiations will solve all of our problems with Iran. I think that is a sensible approach.
The bigger issue is what they can realistically expect to achieve. Biden is signaling a desire to get back into the JCPOA because he believes that we have to end what the Iranians are doing right this minute on their nuclear program. That we cannot be so worried about what will happen in five years when the JCPOA's sunset provisions run out. Once he has addressed the near-term danger, then we can deal with everything else using all the tools in our kit, including diplomacy and negotiations. The problem is that when folks in the region hear this, they are right to wonder if the United States is warning that they are going back to the JCPOA without forcing the Iranians to do any more to restrain nuclear (or missile) development. Biden can respond, rightly, that Trump tried with "maximum pressure," and that was not enough to force them to go beyond the JCPOA. Personally, I would like to see us push back against the Iranians for a number of reasons. But the reality is Biden has the United States and the whole world to worry about. He doesn't seem prepared to gather the energy and resources needed to get the Iranians back to the table to do anything more than recommit to the original JCPOA, and our allies in the region know that. They already know the process is not headed in the direction that both we and they want.
GJIA: Before his election, Biden indicated dissatisfaction with Trump's "maximum pressure" preference to return to the JCPOA. Yet, thirty-seven days into his term, there is retaliation with US airstrikes launched against Iranian targets in Syria. Can we begin to question policy cohesion? If this is justified as "carrot and stick," did retaliation make sense given the incredibly narrow window for JCPOA in light of the International Energy Agency's latest assessment of Iran's uranium enrichment?
KP: First, the attack on the Iranian militia in Syria is perfectly in keeping with the Biden administrations' statements. They more or less said: "we have a range of issues with Iran, with the nuclear program being the most pressing, and we have a range of tools for dealing with these issues, and we are going to use different tools for different tasks. We do not like the way Trump used these tools; we think Trump overused some tools and prioritized the nuclear issue in a way that did not make sense. But we are going to use the right tool for the right problem." They can make the fair argument that what they did was both reciprocal and proportionate. You could also justify their action by reversing the question: Rather than asking if a retaliatory strike was harmful to the cause of the JCPOA, we can ask if what the Iranians did (their own attack that provoked the US strike) was harmful to the JCPOA? We did not start this one. There is no question that the Iranians were complicit in the three attacks by the Iraqi militias on US forces. If it were one attack, it is possible that an Iraqi group went their own way. But after three attacks, there is no question that if the Iranians wanted to stop this, they could have. In the past, we have seen the Iranians shut down rogue actors after a single attack, when that attack did not serve Tehran's interests. The fact that there were three separate strikes against US interests is an unmistakable sign that Ali Khamenei allowed them to happen and so we must assume that he saw them as useful to him in some way.  So Tehran seems to be proceeding from the assumption that their own attacks are not going to scuttle the JCPOA.
The big question is whether Iran is trying to pressure us into the JCPOA. You see this question all the time in the media. I do not think that is what they are up to at all. Rather, I think this is about our position in Iraq. It is an effort by Iran to push Biden—who has already signaled a great deal of ambivalence about the Middle East and a willingness to withdraw from Afghanistan—to do the same thing in Iraq. I suspect this is a longer-term Iranian strategy that has nothing to do with the JCPOA. These attacks started under Trump, underscoring that it is part of a longer-term strategy. Biden's decision to push back on Iran directly in a way which indicated that he is not looking to escalate made sense. It differentiated Biden's approach from Trump's, which was mostly doing nothing and then going in and killing Soleimani and al-Muhandis. Instead, Biden responded directly against the Iraqi militias, not against their Iranian backers. Moreover, Biden's proportionate use of force is sustainable in the long term, if that is what Iran wants to do. He signaled, "we are not going to escalate, but we are not going to let you get away with it." While I am not in full agreement with the Biden administration's Iran policy, I thought the response made perfect sense, and I do not see it as a signal that the United States is interested in scuttling the JCPOA. By the way, Iran has already said it does not see it as scuttling the JCPOA either.
GJIA: To jump back to the Abraham Accords, they arguably signal a fundamental realignment in the broader Middle East, one which seems to be taking off without US instigation. The alliance between Israel and Sunni Arab states of the Gulf—and pushing the Palestinians to the back-burner—is an update the United States cannot ignore. Do you see a scenario where Biden will retreat from the Abraham Accords, whether as a carrot to Iran or based on a basic belief that the Palestinian issue is paramount?
KP: I do not see Biden retreating from the Abraham Accords at all. On their face, they are advantageous to the United States. It is what we have wanted for the past seventy-five years—peace in the Middle East, an end to the Arab-Israeli conflict, and for all the Arab states to normalize ties with Israel. Biden is not going to stand in the way of that, and I suspect he will help as much as he can. But the United States is not demanding expansion of the Accords, neither are we standing in the way of furthering the Accords. These are bilateral agreements between countries. The Trump administration facilitated some progress and helped leaders commit, but countries came to these agreements themselves for their own reasons. In the case of the Emiratis, it is about the strategic alliance with Israel. In the case of Sudan, they felt that if they gave way on Israel, they could get a lot in return. If the Saudis want to reconcile with the Israelis, it would be hard for the United States to stop them. How would we? Would we withhold arms from them? If the Saudis feel they need an alliance with Israel because it is beneficial to their security, they will do it—and we will be glad to help them, not impede them.
So the United States will not try to gum up the works with the Abraham Accords. The only situation one could foresee is the situation in which another country, like Sudan, asks Washington for something, say five billion [dollars] in cash, in exchange for normalizing their relations with Israel. The United States might say no,but, in that scenario, the Emiratis might say yes, and we might facilitate that deal behind the scenes. For our own political and diplomatic reasons, we are not going to undermine the Accords. Especially if Biden's goal is to further pull back from our previous role in the Middle East, it would take a lot to prevent a country from joining the Accords if it wanted to do so.
GJIA: How truly revolutionary are the Abraham Accords? Cautious observers, even those who support them, wonder about the degree to which the ordinary populations in the Arab states have internalized normalized ties with Israel.  
KP: In many ways, the Accords are more evolutionary than they are revolutionary. They reflect something that has been going on for a while both at the elite and popular levels. I do not think the populations, with the exception of the Emiratis, are as enthusiastic about the Accords as their governments. Nevertheless, you still see the same trend. There has been a gentler increase in popular support for ending the Arab-Israeli conflict among Arab populations, but there is nevertheless an increase. There is a greater willingness to countenance normalizing relations with Israel, even if it is at a lower level than the government. Over time, sustained gradual change can become meaningful, salient, and even revolutionary, and I think that is true of the Abraham Accords.  While it reflects a slow evolutionary change in Arab thinking about Israel over the course of time, the Accords are a recognition of how much things have changed. Once the cooperative activities stemming from the Accords become more open and it becomes more normal to have Arab states working with Israel, the pace of change may start to accelerate. It may become easier and easier for other states to join the Accords.
GJIA: Do you think the Abraham Accords can become an opportunity to pursue the "pivot to Asia" policy that was originally proposed by Obama but has an even stronger bilateral consensus today? If China is the most immediate challenge for the United States, could an Israel-Arab alliance containing Iran in the Middle East free the United States to shift attention to Asia?
KP: I think this is problematic in a variety of ways. First, I do not think China is a more immediate threat. No one thinks the Chinese are going to attack Taiwan tomorrow. On the other hand, the Iranians are attacking oil exports in the Gulf right now. The Iranians and their proxies are attacking Saudi Arabia on a weekly basis. Their military threats are not just imminent; they are upon us. There may be potential conflict with China, but there is existing conflict with Iran right now, and it is causing us and our allies to do things we would not have even dreamt of doing ten years ago.
The second issue is with two related lines of thinking regarding a "pivot to Asia." One line of thinking is that our allies' reconciliation will end the Arab-Israel conflict, the major conflict in the Middle East of the twentieth century. This thinking imagines that, for that reason, there would be less need for American military force and American involvement in the Middle East. The second line is that while our allies are reconciling in part to bring an end to the Arab-Israeli conflict, they are also banding together to form a more effective military coalition against Iran. Therefore, this thinking goes, the United States does not have to remain in the region because our allies can now better defend themselves against Iran.
Both of these lines of thinking are deeply problematic. First, ending the Arab-Israeli conflict does not meaningfully change the current security situation in the Middle East.  There really has not been a serious Arab-Israeli conflict in the forty years since 1982 (the Israeli invasion of Lebanon), so ending the Arab-Israeli conflict is no longer the priority it once was, the Second Lebanon War of 2006 notwithstanding.  Second, I do not see our withdrawal from the region—which is driving the Arab and Israeli states together—as a good sign for the long  absent the United States, our allies have a bad habit of taking counsel of their worst fears and taking highly provocative and aggressive actions to try to defend themselves, like Saudi Arabia and the United Arab Emirates (UAE) invading Yemen and the Israelis conducting constant airstrikes against Iranian positions in Syria. Likewise, when the United States does not back up our allies, it emboldens Iran to ever more aggressive and bellicose behavior, just as Trump's failure to respond to the Iranian attacks in 2019 have led to the constant Iranian attacks on Saudi Arabia today. So I see that trend as destabilizing, making war more probable not less.
I am not suggesting that our allies should not be banding together, but the better alternative is to have the United States. remain engaged. That does not necessarily mean significant commitments by the United States; it takes little for the United States to deter Iran. I would rather see the United States remain engaged and then walk slowly over to Asia, rather than see war in the Middle East become so dangerous that we have to race back to it. To me, it is so frustrating to see, time and again, US policymakers say, "let's forget about the Middle East" and try to put a band-aid on the latest problem instead of paying the upfront costs because they seem too high. It never works. When we ignore the problems of the Middle East, they just come roaring back much worse. The United States keeps trying to walk away, and every time we find we have to come back and we pay much higher costs than if we had remained engaged and addressed the problem when it was still small. I am hopeful that Biden learned that lesson from his time as Vice President. Obama did not want to maintain what would have been a very small and cost-effective presence in Iraq. He walked away, and we had to come back and wage the ISIS War instead. It would have been so much better for everyone to have just left the troops there in the first place.
 . . .
Kenneth M. Pollack is a resident scholar at the American Enterprise Institute (AEI) and an adjunct professor in the Security Studies Program of Georgetown University. A widely noted expert on Arab Gulf and Iranian political and military affairs, he previously served as a CIA intelligence analyst and was Director of both Near East and South Asian Affairs and Persian Gulf Affairs at the National Security Council.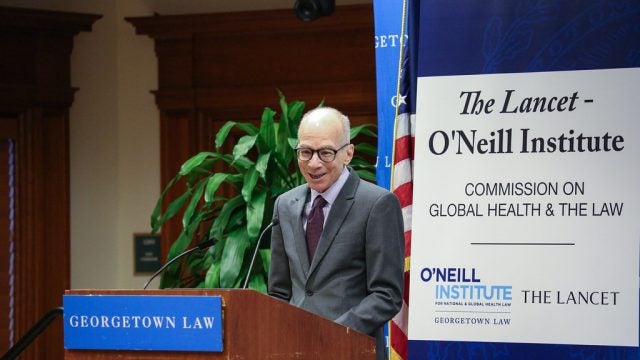 In light of the alarming surge of Covid-19 infections in India, pressure has mounted on developed nations to improve equity in global vaccine distribution. Professor Lawrence Gostin, Director…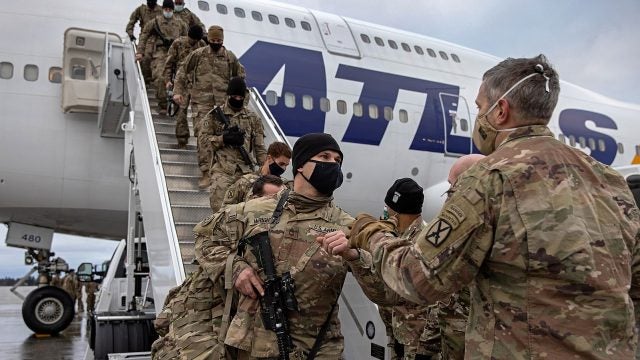 Danielle Pletka is a senior fellow and former vice president for foreign and defense policy at the American Enterprise Institute (AEI).  On April 27, 2021, she sat down…
On March 25th, 2021, the Georgetown Journal of International Affairs sat down with Dr. Yasmine Farouk, a visiting fellow of the Middle East Program at the Carnegie Endowment…