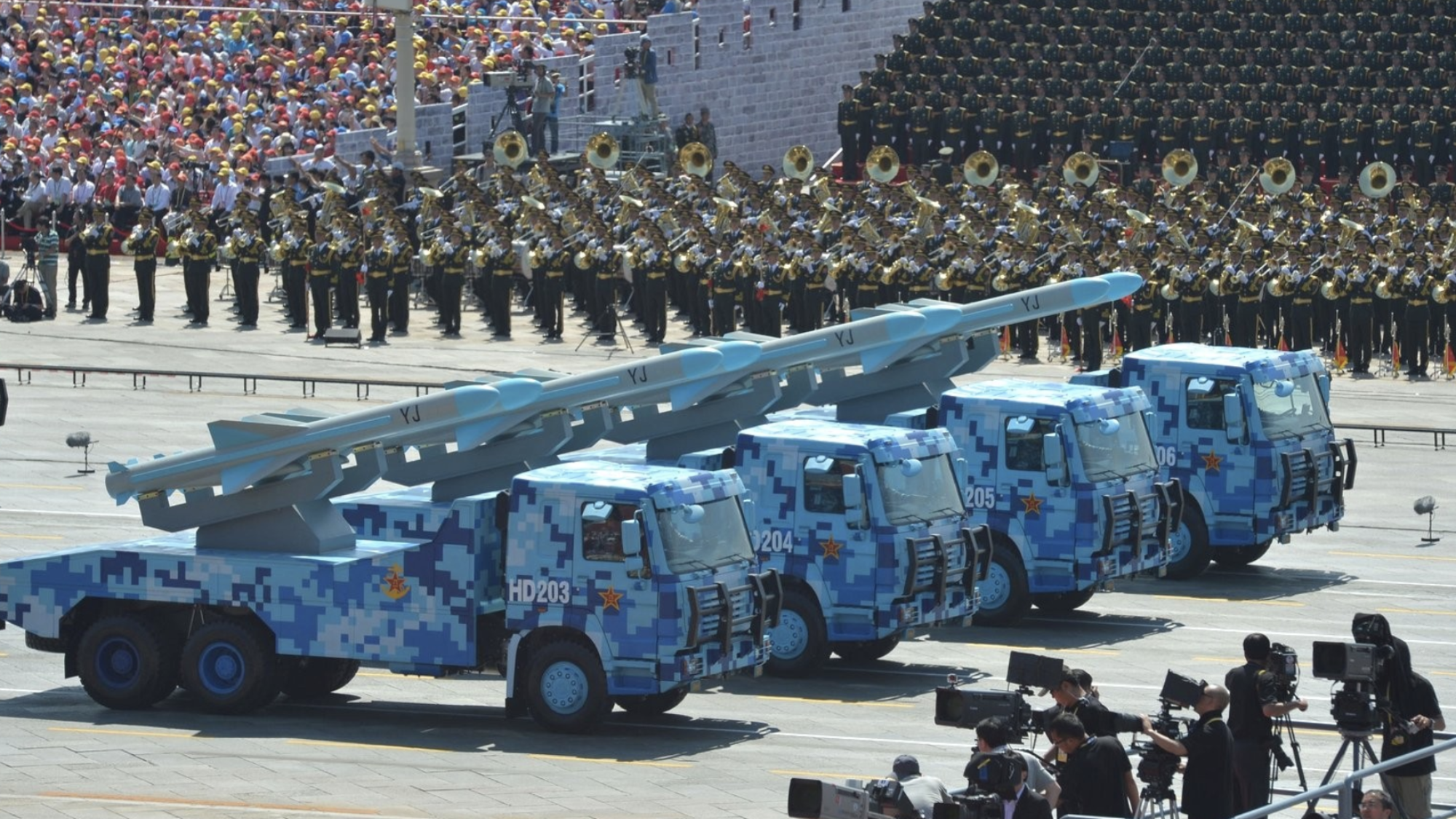 Category:

Conflict & Security
Title:

Catching Up: China's Developing Military Power
Date Published:
January 6, 2020
Introduction
For decades, China has engaged in a fervent game of "catch-up" with U.S. military capabilities. This effort, which has ballooned China's defense spending to 620 percent of its 1990 level, is beginning to bear real fruit. While still far from achieving military parity, China's military technology and doctrine are quickly coalescing into a coherent form of warfare, tailored to overpowering the U.S. military in a short, sharp conflict in the Eastern Pacific. This strategy of "informationized" warfare focuses first on eroding U.S. situational awareness, communications, and precision targeting capabilities.
By decoupling sensors from shooters and shooters from their command structures, the People's Liberation Army (PLA) could negate the battle networks that have helped make the U.S. military so operationally potent. Without these links, China could reduce U.S. forces in the Pacific from a synchronized force to a collection of isolated outposts that it could more easily defeat one-by-one with its burgeoning reconnaissance-strike complex. China's display of surveillance, electronic warfare, and precision strike platforms at its 70th National Day parade shows that China is supporting its strategic vision with real hardware.
For the United States to stay militarily competitive in Asia, it must adapt its capabilities and posture to blunt the impact of Beijing's military developments. It can do so by hardening its battle networks, increasing redundancy within its Information, Surveillance, and Reconnaissance (ISR) Complex, and building more flexible air and missile defenses.
Secure Battle Networks
The U.S. military relies on numerous battle networks which permit the flow of information, thereby providing warfighters knowledge of their positions, their comrades' positions, and intelligence on the enemy. With the increasing speed of warfare, real-time connectivity to information has become a necessity to survive on the battlefield. As one top Air Force engineer noted in 2018, "secured, assured bandwidth is more important than bullets to fight in future war."
While defense analysts have discussed reducing U.S. forces' dependence on offboard tools like GPS, U.S. military technology has decisively trended towards greater exploitation of wireless networks for information sharing, targeting, and fire control. The U.S. Navy's Naval Integrated Fire Control-Counter Air concept, for example, uses line-of-sight datalinks to network ships and aircraft to target threats over-the-horizon. These networks bring great capability to the U.S. military, but overdependence could become a weakness.
The PLA is aware of the importance of battle networks to the United States' way of war. Consequentially, Beijing has invested in electronic warfare platforms like ground and air-based jammers to interfere with wireless communications and data links, jam radars, and spoof GPS systems. China is also developing antisatellite weaponry to target space-based ISR and communication relays. Continued reliance on these technological assets requires the United States to prioritize the development of countermeasures against such attacks from China.
In addition to improving network resiliency, the United States needs the ability to rapidly reconstitute its communication and ISR hardware, should existing assets, particularly those in space, fall to enemy attack. Aircraft and UAVs certainly have a role to play here, yet other concepts could be considered. Architects of President Reagan's Strategic Defense Initiative, for example, conceived the Ground-based Surveillance and Tracking System (GSTS), a rocket carrying a sensor payload that would remain safe on the ground until needed. This "pop-up rocket" concept could have applications in a contested space environment. Another potential technology is High Altitude Pseudo Satellites, which may be configured to provide a navigation capability over GPS-denied areas.
Countering Chinese ISR
While China has been tailoring its capabilities to degrade U.S. battle networks, it has also been perfecting its own reconnaissance-strike complex. To that end, the PLA has expanded the number of reconnaissance satellites in orbit and is improving its array of over-the-horizon radars to support its long-range missiles.
In addition to these persistent assets, China has developed an array of air-based ISR platforms that the PLA can surge when needed. In its recent military parade, the PLA displayed several loitering UAVs that can provide more precise surveillance and targeting of moving assets than over-the-horizon radars. It also showcased more novel ISR platforms, including a high-altitude, rocket-powered UAV for prompt battlefield surveillance. This mix of aerial capabilities could be useful to the PLA, should counter-space operations mutually deny the use of surveillance satellites.
The survivability of forward-deployed U.S. forces in a conflict with China will likely depend on the U.S military's ability to disrupt Chinese ISR. All U.S. naval ships, for example, need both kinetic and non-kinetic options to disable UAVs. Preventing such line-of-sight observation could significantly weaken the PLA's long-range kill chain. The United States should also consider expanding its counter-space capabilities. As China itself becomes more reliant on space, the PLA may hesitate to attack U.S. constellations if Washington can respond in-kind.
Adapt Air and Missile Defenses
Even if the U.S. military can degrade Chinese ISR, a conflict with China would still likely be projectile-heavy. Indeed, the "strike" end of China's reconnaissance-strike complex is diverse and numerous and, thus, the need for robust U.S. air and missile defense is unavoidable. In a conflict with China, the United States would face a mix of ballistic and cruise missiles fired from land, sea and air platforms, hypersonic glide vehicles, and aircraft. The Chinese threat outweighs that from countries like North Korea, to which the United States has historically tailored its missile defenses. Tackling the Chinese strike complex will require systems capable of engaging the full spectrum of air and missile threats.
The U.S. Navy, with its Aegis Combat System (ACS), is well ahead of other air and missile defenses in this regard and could provide a model. In its most recent iterations, the ACS constitutes an integrated air and missile defense system capable of countering most aerial and ballistic missile threats from a single platform. It does this in part by having a variety of interceptors compatible with a single launcher and a multifunction radar that can toggle between air and space-breathing threats. The ACS also has an integrated suite for electronic warfare. These capabilities allow U.S. Navy destroyers to flexibly handle an eclectic threat environment.
For various historical reasons, U.S. land-based defenses are less flexible. Many are suited to defeat a single kind of threat at certain altitudes. Moving forward, ground-based defenses should look at the ACS as a model to make themselves better suited against complex attack.
One gap for all U.S. missile defenses, however, is hypersonic glide vehicles (HGVs). China became the first country to display an HGV at its recent military parade. While not the invincible threat that popular media has portrayed, HGVs will require new interceptors and sensor platforms to counter their unique flight characteristics.
Catching Up
The PLA's effort to catch up to the U.S. military has pushed it beyond what the United States has fielded in some areas. These deficits are most apparent in the areas of electronic warfare and counter-space. Allowing these advantages to persist hurts the U.S. military position in the Eastern Pacific. Any strategy to counter Chinese military advances must invest in U.S. battle networks and ISR resiliency, as well as more flexible missile defenses capable of engaging a broader threat spectrum. The U.S. military must also improve its own toolkit to disrupt enemy ISR and communications, and credible counterspace capabilities to deter attacks against U.S. satellites.
All of this will require prioritization of resources and some precedence over the counterterrorism campaigns that have dominated U.S. military efforts since 9/11. Such a reprioritization aligns with the 2018 National Defense Strategy, which elevated interstate strategic competition over and above terrorism as the top U.S. security concern. Failure to follow through on this reorientation would leave the United States in an ever-more precarious situation.
. . .
Ian Williams (@ianwilliams1383) is a fellow in the International Security Program at CSIS and deputy director of the Missile Defense Project, where he specializes in missile defense and strategic forces, missile proliferation, and deterrence.