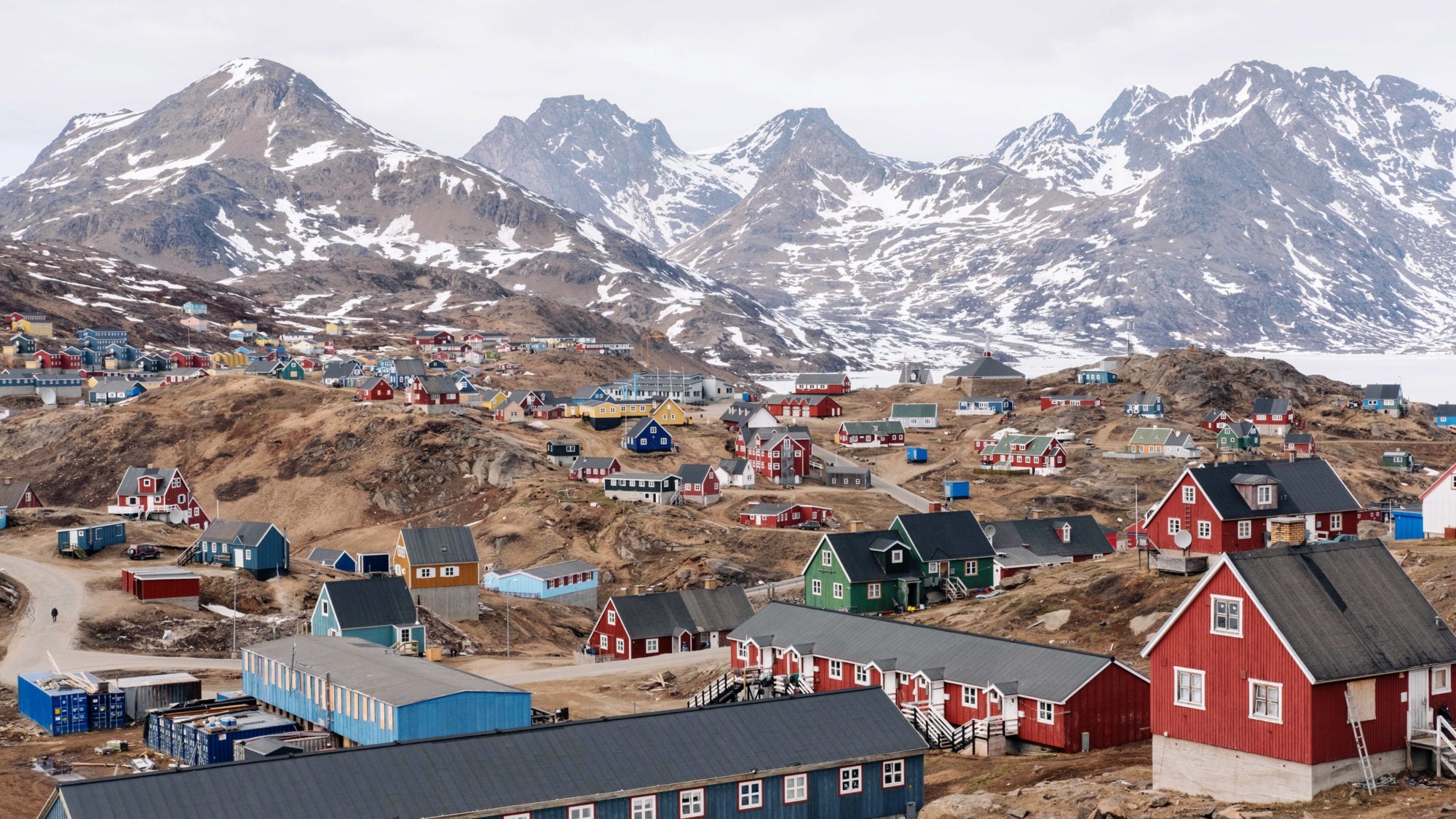 Category:

Society & Culture
Title:

Melting and Mining in Greenland: Understanding Arctic Climate Change Through Dialogue with Locals
Author:
Anne Merrild Hansen and Melody Brown Burkins
Date Published:
May 29, 2020
The Arctic is warming at a rate that is almost twice the global average. While one can generalize about the global impacts of climate change, such as rising sea levels, food insecurity, and more droughts and floods, the impacts on Arctic communities—or any specific global community—are best understood through conversations at the local level.
Introduction

Approximately 13.1 million people live in the Circumpolar North. Communities and cultures established throughout the Arctic thousands of years ago have adapted to the challenges posed by the region's extreme environment and continue to thrive today. However, climate change is significantly altering the environmental conditions of the Arctic and, consequently, the well-being of Arctic people. Greenland in particular is a site of great global interest. Melting ice is opening northern shipping routes and potentially increasing access to natural resources. This phenomenon has created new challenges and opportunities for Greenlandic communities while these same communities continue to experience significant impacts of climate change at the local level. In this article, we explain, from our research and experience, how these impacts of climate change today challenge livelihoods in Greenland. Dialogue with locals is a prerequisite for understanding how climate change will impact the lives of people in these local communities and what actions relevant actors—such as governments, companies, and NGOs—should take to confront and combat climate change.
Arctic Norms for Inclusion
Demands for high-quality, informed, and influential public participation concerning decision-making that influences the lives of people in the Arctic are growing. In 1973, representatives of Indigenous Peoples in the Arctic organized an international conference highlighting their voices and autonomy. The establishment of the Arctic Council in 1996 formalized an inclusive structure with permanent participants, including the Inuit Circumpolar Council securing the inclusion of Arctic voices. Furthermore, the 2015 development of an Arctic Investment Protocol encouraged non-governmental stakeholders to involve locals in decision-making. The 2018 Fairbanks Agreement on Enhancing International Arctic Scientific Cooperation similarly emphasized the need for academic institutions to engage local communities when conducting research in the Arctic.
The 2011-2020 Arctic Strategy of the Kingdom of Denmark, which includes Greenland, notes the need for "a fundamental respect for the Arctic peoples' rights to utilize and develop their own resources as well as respect for the indigenous Arctic culture, traditions, and lifestyles." In Greenland, legislation demonstrates this change. For example, completing the Social Impact Assessment (SIA) is required for extractive projects, and guidelines on the process and preparation of the report for mineral projects recommend that "local" and "traditional" knowledge is taken into consideration for new mining projects.
The Necessity of Community Knowledge in Understanding Local Changes
Greenland's population of 57,000 is spread over thirty cities and villages, all of which are far from each other. Eighty-five percent of Greenland's 836,000 square miles is covered by ice; only the coastal zones are habitable. In Greenland, the Inuit, the largest ethnic group, forms the government, but all Greenlanders are still considered indigenous to the land. A growing majority of Greenlanders today reside in larger and more modern towns in line with Western standards, but everyday life also unfolds in very small and remote settlements. Here, people live according to more traditional lifestyles that depend more directly on the surrounding environment and natural resources, which vary greatly by region. Knowledge systems in these communities have evolved over generations and can inform and nuance the scientific understanding of their local environments.
To protect the interests of individuals in the diverse and distant communities in Greenland, and to better understand how climate impact appears locally, engaging with not only citizens from the capital of Nuuk but also people living in the smaller coastal communities remains crucial.
How Climate Change Influences Present Livelihoods and Future Aspirations in Greenland's Communities
Drawing from many years of residence, long-term research, and fieldwork in Greenland, we found that Greenlanders' perceptions of how climate change will impact themselves and their communities highly depend on their profession and where they live in Greenland.
Ten years ago, in southern Greenland, warmer summers benefitted sheep farmers as they increased overall agricultural productivity due to expanded grazing lands. Today, however, the farmers are less satisfied with the consequences of escalating climate change. The grass harvest has reduced due to dry summers, and annual yields fluctuate more than in the past. A farmer from Qassiarsuk explained that in 2018, he harvested 200 tons of grass in the same fields where he harvested 400 tons in 2008. Farmers use the grass for fodder for the sheep during the winter season, and a smaller harvest necessitates importing extra fodder. The sheep farmers are concerned about how climate change will continue to impact their farming and the production of fresh foods in Greenland in the future.
In the southern towns of Narsaq, Nanortalik, and Qaqortoq, mineral exploration is increasing. Access to minerals and shipping opportunities in the region are central to the operational costs of projects. According to locals, these features are heavily influenced by climate change, but there is no consensus on whether mining should be further developed. People are especially divided in Narsaq, where the company Greenland Minerals Ltd. is planning a rare earth metals mine involving the production of rare earth metals and uranium. Those who oppose the mine are concerned about the proposed storage of radioactive tailings in a lake near the town, since climate change may harm the long-term security of such a solution.
Climate change has also challenged the traditional lifestyles in hunting communities in northern Greenland. Halibut fisheries and traditional hunting define the cultural identity and influences all household activities of northern Greenland. While some hunters depend on moving across the increasingly thin sea ice to catch and provide food supplies to their communities, some fishermen see new opportunities for expanding fisheries, as more fish species are entering the waters. Nevertheless, the hunters remain uncertain about how climate change affects their safety, as they no longer "know" nature as they once did due to drastic seasonal changes in the environment. They emphasize that sharing traditional knowledge also becomes more challenging in the present context of climate change. Some hunters urge their children to pursue an education and a career in other sectors and move to other parts of Greenland to secure their future. This change may ultimately influence Greenlandic culture and preservation of traditional knowledge as well as settlement patterns. This social shift will also impact Greenland's economy, which now primarily depends on the halibut fisheries.
In eastern Greenland, sparse infrastructure renders logistics quite challenging. Here, some people worry about extreme weather, which may impact travel in and out of the region, as well as healthcare and the transportation of food supplies and other goods. Those who live in eastern Greenland, therefore, fear increased remoteness and isolation due to climate change.
In the mid-region of Greenland where Nuuk is located, some people are worried about global environmental issues, according to recent interviews with locals. They also are concerned about national security in relation to the opening of sea routes through the northwest and northeast passages. They find that the towns and infrastructure along the coasts become more exposed from the seaside as other nations increase their presence and activities in Greenland's waters. For others, climate change presents opportunities for adaptation to global structures like shipping and trading. Some politicians and business leaders appreciate that climate change has given Greenland a voice in international forums and climate negotiations. Others hope that a warmer climate means easier access to oil, gas, and minerals, meaning greater economic independence from Denmark and better jobs for struggling communities.
Conclusion
Multiple perspectives exist on climate change in Greenland. Understanding local perceptions, concerns, preparedness, and responses to climate change thus depends on an understanding of the social and cultural context. The findings unique to Greenlandic communities can help inform climate mitigation and adaptation strategies in Greenland and the Arctic. By engaging and including the locals in the assessment of climate change, policymakers should employ those perspectives and ideally seek a path toward the national level that all community members can accept.
The case of Greenland reveals that the acceleration of climate change is already impacting peoples' ways of life. It also underscores how the realities of local communities must influence the strategies that governments implement in order to adapt to and combat climate change on a local and international scale.
Engaging in local dialogue is needed in order to tailor responses to climate change. With an increased understanding of how the impact of climate change varies across Greenland, early warning systems can better support disaster prevention and response. Policymakers should prioritize adaptation in the communities most affected by climate change. A nuanced understanding of how climate change impacts Greenlandic communities comes only from dialogue with members of these communities themselves.
A model characterized by the inclusion and engagement of local perspectives is expected in the Arctic because such a model is the respected norm of Arctic organizations in research, education, and governance. Such a model, however, is not relevant to only the Arctic. The international community should learn from Greenland's case and must employ the same Arctic model. Employing a model that engages local perspectives will improve the efficacy of climate change initiatives at a global level. In order to avoid a grim and flooded future, policymakers seeking to combat climate change in Greenland and around the world must urgently tailor their actions to local problems.
. . .
Anne Merrild Hansen, PhD, is a professor at the Danish Centre for Environmental Assessment and the head of the cross-faculty platform, AAU Arctic at Aalborg University. She is also a professor and the director of the PhD school at Ilisimatusarfik, University of Greenland. Her research focuses on the social impacts and benefits related to resource development in Arctic communities. She studies impact assessment processes with a particular focus on participation procedures and inclusion of Indigenous knowledge and local knowledge in the assessments.
Melody Brown Burkins, PhD, is an Associate Director in the John Sloan Dickey Center for International Understanding, Senior Fellow in the UArctic Institute of Arctic Policy, and Adjunct Professor of Environmental Studies at Dartmouth. Burkins also serves as Chair of the Board on International Scientific Organizations (BISO) at the US National Academies of Science, Engineering, and Mathematics (NASEM) and is an elected member of the International Science Council (ISC) Governing Board.