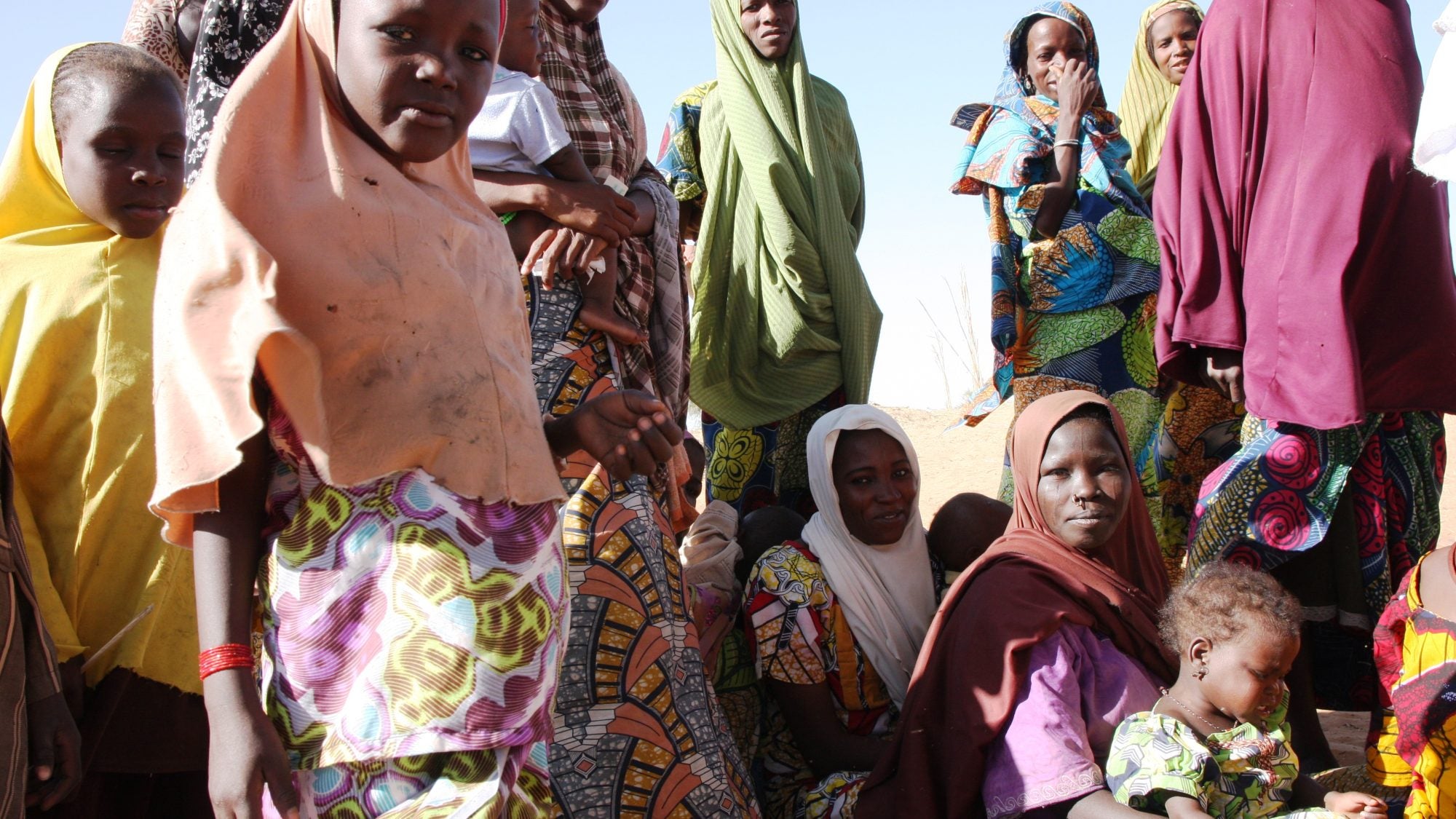 Category:

Human Rights & Development
Title:

Gender and Terror: Boko Haram and the Abuse of Women in Nigeria
Author:
Al Chukwuma Okoli
Date Published:
April 5, 2022
The abuse of women is a critical dimension of the strategy of terrorist group Boko Haram. By adopting gendered tactics, Boko Haram exploits female vulnerability to promote its anti-western, jihadi agenda. The group victimizes women by subjecting them to rape, armed abduction, forced marriage, and captivity. Boko Haram also objectifies women by using them as instruments and objects of war such as sex slaves, human shields, and suicide bombers. Combating this strategy requires a gender-sensitive approach to counterterrorism, specifically one which mitigates the vulnerability of women in the face of terrorism.
Officially known as Jamā'at Ahl as-Sunnah lid-Da'wah wa'l-Jihād, Boko Haram is Nigeria's most prominent insurgent sect, fighting for Islamic rule in the country. "Boko Haram" is a Hausa concept (Hausa is a predominantly Muslim ethno–linguistic group in northern Nigeria), which translates literally to "western civilization is forbidden."  The group was largely considered a local insurgency group until July 2013, when the U.S. State Department designated it a terrorist organization following the escalation of its indiscriminate violent attacks. Through jihad (a holy war waged in defense for or in the advancement of Islam), Boko Haram ultimately seeks to entrench a system of Islamic rule in northern Nigeria based on Shari'a, an Islamic legal system.
Yusuf Mohammed, a radical Islamic cleric, founded Boko Haram in 2003, and used it to engage in localized preaching and proselytizing in the Borno State of northeastern Nigeria. Boko Haram, under Mohammed's leadership, strove to propagate its vision of revivalist Islam based on Salafist doctrine, which stresses a return to pure traditional Islam and sharia. Mohammed's murder in 2009 by Nigerian police aggravated his followers and drove them into violent extremism as a protest of what they believed was an extra-judicial killing. From 2011 to 2013, the sect engaged in a series of guerrilla attacks on civil and military targets around Nigeria, using firearms, improvised explosive devices (IEDs), and suicide bombings.
Following protracted leadership disputes, Boko Haram fractured in 2016, leading to the emergence of a splinter group known as the Ansaru. Boko Haram remains resilient despite this split and the significant pushback on its violent campaigns by the Nigerian military, Civilian Joint Task Force, and the sub-regional Joint Task Force.. It continues to hold territory and withstand counterinsurgent forces in more than a dozen rural communities in Nigeria's Borno, Adamawa, and Yobe states.
The Vulnerability of Women to Boko Haram
By capitalizing on the prevailing patriarchal order in northern Nigeria, Boko Haram violence disproportionately affects women and results in entrenched religious, legal, and social structures that marginalize women. The tradition of male hegemony and female subordination is drawn from orthodox interpretations of Shari'a, currently practiced in twelve of nineteen northern Nigerian states. This system marginalizes women in terms of civic participation, social recognition, socio-economic empowerment, property rights, and inheritance.
Due to gender roles espoused by Nigerian patriarchal culture, the lives of women are more likely to be viewed by their male counterparts as expendable. Poverty and illiteracy, most prevalent among women, also systemically reinforce patriarchal structures by giving men social and economic advantages over women. Such conditions make women more vulnerable to Boko Haram's recruitment and mistreatment. Although there are exceptional instances where female fighters have joined the group voluntarily, most of them are either forced, through abduction and bondage, or coerced into the group.
Boko Haram and Gender-Based Violence
Because of prevailing perceptions of women as expendable in Nigeria, Boko Haram disproportionately targets women and instrumentalizes them for terrorist violence. The sect exploits women's social vulnerability to recruit and enlist them into various insurgent roles to advance its terrorist agenda. A 2017 CNN report indicated that more than 60 percent of those abducted by Boko Haram from 2014 to 2017 were women. The targeting of women was clearly illustrated in 2014, when Boko Haram abducted nearly 300 girls from a public school in the town of Chibok, in the Borno State. In 2018, a similar incident was recorded in Dapchi, Yobe State, where 101 girls were kidnapped by the group. In both instances, the abducted girls were used as objects of strategic bargaining, either for ransom or as leverage in critical negotiations. In the Chibok kidnapping specifically, Boko Haram commodified women by demanding the release of Boko Haram commanders in the Nigerian government's custody in exchange for several of the abducted girls.
Aside from these two instances of mass abductions, kidnappings continue sporadically around northern Nigeria. In the custody of Boko Haram, victims are subject to rape, forced Islamic religious conversion, forced labor, and forced marriage and concubinage in insurgent camps. Not only does Boko Haram capitalize on the marginalized position of women, the group's use of gender-based violence also contributes to outcomes that further undermine the position of women in society. For example, early marriage and pregnancy are common among female abductees who are subjected to forced marriage or sexual servitude. Girls are also more likely to drop out of school early for fear of abduction by Boko Haram. As a result, the rate of female school enrollment is far lower in northern Nigeria than in other regions.
Women as Tools of Terror within
Beyond subjecting women to gender-based violence for political purposes, Boko Haram also uses women as instruments of terror by weaponizing them as human shields, arms couriers, spies, and suicide bombers. Boko Haram deployed its first female suicide bomber in Gombe State in 2014 and has since then adopted the act as a common tactic. More than sixty percent of the group's suicide bombers are women. Boko Haram considers the use of women in suicide bombing operations to be tactically efficient and pragmatic; by using women in suicide operations, the group can conserve its limited male fighters for other combat operations. Using female suicide bombers also allows Boko Haram to evade security surveillance, which is likely to be more suspicious of men than women.
Recommendations
Boko Haram employs a gendered terrorist strategy in its instrumentalization, commodification, and weaponization of women. By using women as sex slaves, human shields, armed couriers, and sources for ransom, Boko Haram has normalized gender–based violence as a strategy of terror. Considering the role of gender in Boko Haram's strategy, Nigeria's current counterinsurgency strategy has adjusted to emphasize gender-sensitive rehabilitation and reintegration processes geared towards supporting those engaged with violent extremism either as victims or perpetrators. Specifically, the National Framework on Counterinsurgency recognizes the need to protect the dignity of women and girls caught up in the web of Boko Haram's terrorism. However, despite its intentions, Nigeria's gender–based counterterrorism strategy has fallen short of realizing its goals.
In order to enact effective change, concrete action must be taken to advance the goals of this framework. Specifically, the Nigerian government and relevant non–governmental organizations (NGOs) should institute gender-based education and economic empowerment programs to promote women's resiliency and adaptability in the face of terror. These groups should also equip women in northern Nigeria with self–defense skills to increase their personal capacities to withstand insurgent attacks.
Counterinsurgency operations in Nigeria should further seek to negate Boko Haram's gendered strategy by propagating counter–narratives that undermine the legitimacy of gender discrimination within the terrorist group. Such narratives could harness the voices of women who have escaped captivity to expose the atrocities committed by the terrorist group.
Nigeria's military-oriented approach to counterinsurgency must also be complemented by a concern for the particular needs of vulnerable local populations. The current national counterterrorism protocol in Nigeria has largely lacked viable community support mechanisms, such as gender-specific humanitarian platforms designed to support women recovering from Boko Haram violence. By prioritizing gender-affirmative interventions at the grassroots level, Nigerian counterterrorism efforts can have a stronger impact and empower vulnerable women more effectively.
Ultimately, Nigeria must take a multi-sectoral approach to stop culturally entrenched practices of female discrimination. Only through female empowerment and gender-specific strategies can the country take effective action in the fight against Boko Haram.
…
Dr. Al Chukwuma Okoli (B.Sc., M.Sc., Political Science), holds a Ph.D. in Defense and Strategic Studies from Nigerian Defense Academy (NDA). He is a Senior Lecturer in Political Science at Federal University of Lafia, Nigeria. Dr. Okoli has consulted for UN Women, The Conversation Africa, and Centre for Democracy and Development (CDD) in Nigeria. He is a member of Amnesty International as well as a triple laureate (2018, 2019, 2020/2021) of Council for the Development of Social Science Research in Africa.
Image Credit: EC/ECHO/Anouk Delafortrie, Attribution-NonCommercial-NoDerivs 2.0 Generic (CC BY-NC-ND 2.0)