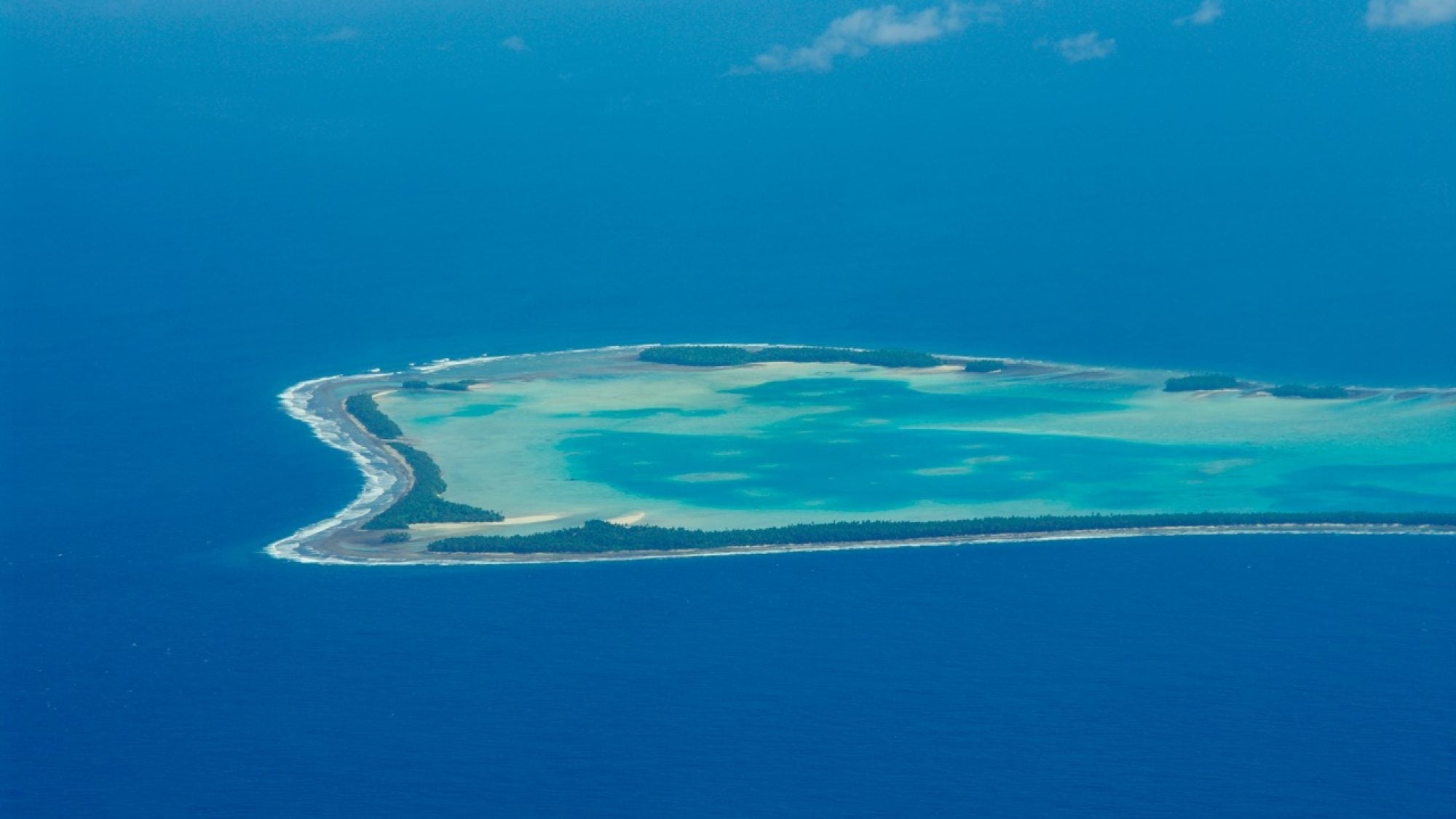 Category:

Human Rights & Development
Title:

Climate Change and Pacific Islander Life
Date Published:
April 28, 2023
Human-caused climate change is a major factor affecting Pacific islander life. The causes and impacts of climate change must be addressed, but not at the expense of other social and environmental challenges. To do so, policymakers must go beyond initiatives such as "loss and damage" to avoid creating further problems.
Pacific Islanders
The Pacific Ocean covers nearly a third of the Earth's surface with diverse islands scattered throughout, from active volcanoes to coral atolls. Pacific island countries range from Papua New Guinea, which is larger in area and population than New Zealand, to Tuvalu, with a mere 26 square kilometers of land and 11,000 to 12,000 people. Pacific islander peoples speak hundreds of languages, have millennia-long histories, and possess a deep understanding of their environments and livelihoods.
The Impact of Climate Change
Human-caused climate change is severely affecting the Pacific, from more intense tropical cyclones to changing floods and droughts. Sea level is rising, the ocean is acidifying, and the water's surface temperature is increasing. Coral reef destruction and shifting locations of marine species have impacted ecosystems. Encroaching saltwater contaminates freshwater supplies and makes some islands unsuitable for typical agriculture.
As the environment changes, local knowledges and traditional livelihoods are becoming outdated in certain areas. Significant adjustments are needed to sustain water and food supplies without more imports, especially to maintain fishing and agriculture-based livelihoods.
Many Pacific island communities are sustained by residents migrating (temporarily or permanently) and sending back remittances. If islanders cannot adjust quickly enough to climate change's short and long-term impacts, more people might have to move. While this could increase remittances and reduce stress on local resources, if too many migrate, communities could lose viability, potentially not having enough children for local schools.
Additionally, Official Development Assistance (ODA)—development aid given from one government to other countries—comprises a large proportion of many island countries' revenues. As climate change increasingly dominates some donors' agendas, Pacific islands might receive more ODA, augmenting their aid dependency. In Kiribati, the focus on climate change distracts from people's daily concerns, diverges from their lived reality, and forces them into highlighting climate change for obtaining assistance.
Much of this money misses its target. The UN highlighted the trend of illicit financial flows in island states, explaining that "of the top 10 countries with the highest illicit flows to GDP ratio, four are small island countries." Twenty-one percent of the world's illicit financial outflows come from "small island least developed countries." Many island states have the money to address climate change on their own but choose not to use it. Increased ODA might simply increase corruption.
Tourism produces lucrative livelihoods for many Pacific islanders yet also exploits local peoples and overuses resources. Major changes to the environments that tourists enjoy, such as beaches and coral reefs, have fostered concerns that climate change might hurt tourism revenues. Tourism may also decline as many realize its detrimental impacts.
Despite severe effects from climate change impacting many Pacific island livelihoods, other livelihoods are not overly influenced. Tuvalu, for example, likely earns twenty to twenty-five percent of its national income from selling its top-level internet domain name .tv (for television channels), although the full terms of the deal are not public. Other Pacific island countries market that they are "flags of convenience" for vessels (e.g., Marshall Islands), provide offshore financial services and tax havens (e.g., Vanuatu), and offer citizenship for investment (e.g., Tonga).
Just as insidious are suggestions that climate change will hurt Pacific islands anyway, so they should exploit the environment while they can. Banaba (in Kiribati) and Nauru have been devastated by phosphate mining with little of the resource now remaining. External profiteering and local mistakes prevented these islands from investing mining income productively, ruining their landscapes and economies. The tourism industry benefits from promoting the alleged "last chance" to visit destinations before they vanish (or are otherwise wrecked)—illustrative of their desire to exploit what remains on the environment.
Though the Pacific islands' tourism industry and others claim that many islands are already bound to vanish, these narratives are not scientifically supported. This suggests that doom-and-gloom climate change narratives are merely excuses to continue exploitation.
Responding to Climate Change's Impacts
Who should primarily work with Pacific islanders to address social and environmental issues related to climate change? This question permeates negotiations on international climate change agreements, such as the United Nations Framework Convention on Climate Change (UNFCCC). The "polluter pays" advocacy from island states led to an initiative advocating for major greenhouse gas emitters to pay for the "loss and damage arising from the adverse effects of climate change."
Vanuatu first suggested a "loss and damage" mechanism in 1991, although the phrase did not appear in a formal UNFCCC document until 2007. A preliminary agreement on a "loss and damage" fund covering greenhouse gas emissions was eventually reached in 2022 with minimal details on its funding and operations.
Aside from the length of time required to achieve this nebulous result, the suggested $140 to 300 billion per year fails to match the expenditure causing climate change. Direct government subsidies for fossil fuels have typically exceeded $400 billion per year, while some estimates conclude that indirect subsidies for fossil fuels are even greater. A "loss and damage" mechanism disbursing even $500 billion per year would distract from a focus on eliminating the potentially $5 trillion per year of government subsidies that create and support human-caused climate change.
Other climate change issues not always highlighted at the international negotiations include Pacific islands extracting fossil fuels (e.g., Fiji) and dependency on aviation and shipping. Emissions from these activities are not fully accounted for in national reports of greenhouse gases (e.g., the Federated States of Micronesia).
The attention given to "loss and damage" from climate change further overlooks "loss and damage" from other influences. "Loss and damage" could consider external religions undermining local knowledge, nuclear weapons testing, colonialism, and imported, unhealthy foods displacing local products. Furthermore, ecosystem harm from local, human-caused environmental damage, such as mangrove removal and fishing with explosives in the Solomon Islands, could perhaps be subtracted from that attributed to global human-caused climate change. Some fishing is done for foreign interests, suggesting that the foreign interests should pay for the damage.
Human-caused climate change brings some benefits—for instance, increased fish abundance and land accretion—so these gains could be subtracted from "loss and damage" awards, provided that attribution of human-caused climate change to specific benefits is feasible. Ultimately, the "loss and damage" approach raises far more challenges than could be resolved by committing a specific fund with clear disbursement mechanisms.
Creating a Future
Solutions to these challenges must focus on two categories: (i) exploring all options for Pacific islander futures and (ii) placing climate change within wider and deeper contexts. Creative options for future Pacific islander life and livelihood include creating a digital copy of Tuvalu, maintaining sovereignty without physical territory, constructing artificial islands, planning for extensive migration, and living in the sea, which is already a reality for some Pacific tourist villas. This is not just about the next generation, but also about where and how Pacific peoples wish to live over the next centuries.
Even if global greenhouse gas emissions stopped tomorrow, Pacific islanders and the world would still face many other pollutants, ranging from cyanide fishing to persistent organic pollutants to radioactive contaminants. Deforestation, overfishing, genetic patenting, and mineral extraction continue apace. Calculating only a subset of pollution emissions to be "loss and damage" reinforces silos that are counterproductive to long-term sustainability.
However, addressing Pacific islanders' legitimate concerns about climate change could lead to new difficulties. Paying people to move out of expanding floodplains due to rising sea levels could place them nearer to active volcanoes, in landslide zones, or far from their fishing livelihoods.
The ethical responsibility rests with everyone—governments, the private sector, non-profits, intergovernmental organizations, and ordinary people—to implement responses to climate change that do not create or exacerbate problems. Inaccurate storylines of environmental doom undermine efforts to act, especially since surviving and thriving for Pacific islanders is not just about climate change, but is also about wider social and environmental contexts.
. . .
Ilan Kelman is a professor of disasters and health at University College London, and a Professor II at the University of Agder, Kristiansand, Norway. His overall research interest is linking disasters and health, integrating climate change into both.
Image Credits: Wikimedia | INABA Tomoaki