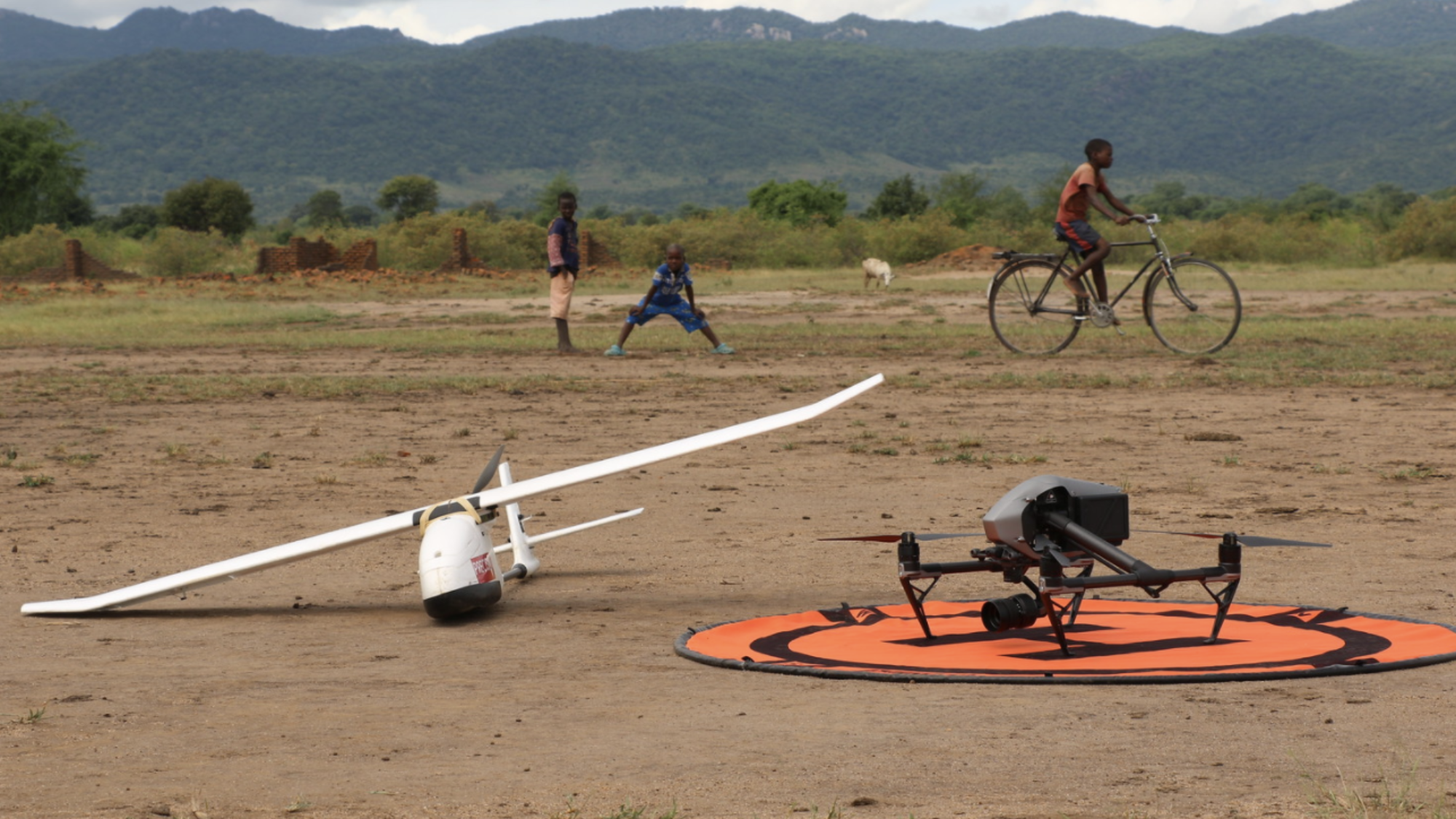 Category:

Business & Economics
Title:

Drones, Development, and Discovery
Author:
Christopher J. Coyne and Nathan P. Goodman
Date Published:
April 15, 2020
Introduction
Unmanned aerial vehicles (UAVs), or drones, offer significant potential benefits for development. This is especially true in environments where transportation is costly, such as mountainous regions or areas with poor infrastructure. Throughout Africa, people currently use drones to address diverse challenges. For example, in Rwanda, mountainous "remote areas…are difficult to reach, especially during the rainy season." This prevents healthcare providers from obtaining blood in a timely manner. Blood has a short shelf-life, so slow deliveries can result in blood going to waste. With patients' lives at stake, the Rwandan government hired Zipline, a Californian start-up, to deliver blood using drones. Ghana's government pursued a similar strategy by hiring Zipline, also to deliver blood. The country now uses drones to deliver a range of cargo including birth control and medical supplies. As these examples illustrate, drones serve multiple functions that improve people's lives and, as a result, the commercial drone market in Africa is predicted to continue to grow. According to one projection, the commercial drone market in the Middle East and Africa will generate $218 million in revenue in 2022, up from $82 million in 2020. Given this, it is crucial that governments adopt regulatory frameworks that incentivize innovative uses for drones.
The Benefits of Drones for Development
Drones can be understood as a transaction-cost reducing technology. Transaction costs are the costs associated with discovering, facilitating, and enforcing interactions and exchanges. Drones expand market access by reducing the cost of transporting goods. This allows people to trade across longer distances, which is especially beneficial in settings with poor infrastructure or inhospitable terrain, two conditions which are found throughout much of rural Africa. Increases in the extent of the market allow for a greater range of trading partners, which is a key component of economic development.
Expansions in market access, in turn, allow for specialization. If trade can only happen within a village, for instance, then villagers need to perform all necessary activities to produce the desired goods and services. If inter-village trade is available, however, then villagers can specialize in producing certain goods and services and then trade with outsiders to obtain other goods and services. The result is an increase in the overall amount of goods and services available, which in turn improves human well-being. In general, by reducing the cost of trade, drones enable specialization and increase production.
Drones also reduce the costs of searching for trading opportunities by removing the uncertainty associated with finding opportunities for beneficial exchange. Consider, for instance, a farmer in a remote area whose farming equipment needs repair. If the farmer can order spare parts that are delivered by drone, this reduces the costs of searching for trading partners and the uncertainty facing the farmer regarding the productivity of their equipment.
Implications for Regulatory Policy
Drone-related regulations are meant to limit the potential harms of drones. In principle, these regulations can limit negative externalities, such as aircraft collisions and invasions of privacy. The potential downside of regulations, however, is that they may limit value-added innovations.
For example, regulations might require that drones contain specific, pre-certified technologies or safety devices. However, an entrepreneur may discover a different technology that can provide the same, or better, safety while creating more value. If the entrepreneur is limited by a regulation, then the value-enhancing discovery will never occur. These types of regulatory impediments to innovation are particularly costly for emerging technologies like drones where innovation is rapid and, in emerging economies, where the benefits of technologies that reduce transaction costs are significant.
Regulatory approaches to drones vary across African countries. In 2018, in the hope of reaping the benefits of regulation while reducing impediments to innovation, the Rwandan government announced a system of "performance-based regulation." Under this system regulators evaluate proposed drone projects based on likely outcomes, rather than requiring that they conform to specific technical standards. Tanzania has followed a similar approach. One concern, however, is that the definition of satisfactory outcomes must be determined by regulators.
There are two potential problems with this approach. First, regulators may not have the local knowledge to determine which outcomes improve the welfare of local communities. What are considered satisfactory outcomes will likely vary from one community to another such that what is considered satisfactory in one region of a country may not produce the same benefits in another region due to differences in local conditions. Second, the specifics of what is considered a satisfactory outcome may change as local conditions change. The potential problem is that regulations can often be slow to change in the face of evolving conditions.
Another approach is the "regulatory sandbox," which allows experimentation and relatively free entry in a specific area. For example, the government of Malawi, with the support of UNICEF, operates a "drone corridor" where new approaches can be tried. According to the Advanced Drone Operations Toolkit, "operations are tested in the corridor, and then authorizations beyond the corridor can take place as the safety of the systems and operators are demonstrated." This has enabled innovations in agriculture, healthcare, sanitation, and disaster preparedness.
The benefit of the regulatory sandbox approach is that it allows for open-ended innovation for those granted access to the drone corridor. The downside of this approach is that there is the potential for it to become a type of government-granted privilege, whereby those who effectively lobby to gain access to the sandbox are able to exclude rivals who are unable to participate. This would have two significant related costs which would reduce the welfare of the general populace. First, it would grant monopoly profits to those in the sandbox who face limited competition due to government-created barriers. Second, it would stymie innovation through reduced competition from potential rivals. The potential for cronyism and politically-granted economic privilege is something that needs to be addressed for the regulatory sandbox approach to be effective.
Conclusion
Drones are already being used in many creative ways that save lives, enable trade, and increase productivity. With the right rules in place, these benefits will only grow. There is no "one-size-fits-all" approach for rules regarding drone technologies that applies to all societies, and thus the determination of rules should be left up to people living in the society that will be regulated. That said, we offer some general guidelines that can be used when formulating policies regarding commercial drones:
Rules should be simple and clear. Rules that are complex or vaguely worded will be difficult for entrepreneurs to understand. These entrepreneurs will invest resources in interpreting vague language instead of directing those resources toward economic activities which improve the well-being of citizens. Moreover, complex rules pose a barrier to entry, which can create monopoly privileges.
Rules should be general. Rules should apply to everyone equally in order to minimize favoritism and privilege to some producers over others. Political privilege undermines the dynamism of markets and innovation as people seek to secure benefits through the political means instead of through the economic means of innovation and offering value-added services to fellow citizens.
Rules should limit delays in introducing innovations. Technological changes happen rapidly. Rules that require a slow review process run the risk of delaying the introduction of value-added innovations. To the extent rules require regulatory permissions, the review should happen quickly and include specific maximum timeframes for review (e.g., a decision must be made in two months).
The possibility of rule harmonization across African countries should be explored. Harmonization involves the common adoption of rules. If states can cooperate to adopt the same rules related to drones, it offers the possibility of extending the benefits of drone innovations across a greater geographic space. If harmonized rules are broad and general, they will limit the possibility of any entity, or group of entities, gaining political privilege.
Guided by these principles, policymakers can ensure there is an environment for continued innovations in commercial drones and the significant benefits they offer.
. . .
Dr. Christopher J. Coyne is a Professor of Economics at George Mason University. He also serves as the Associate Director of the F. A. Hayek Program for Advanced Study in Philosophy, Politics and Economics at the Mercatus Center. He is also the Co-Editor of The Review of Austrian Economics and The Independent Review, as well as the Book Review Editor for Public Choice.
Nathan Goodman is a doctoral student in the Department of Economics at George Mason University, where he serves as a graduate lecturer and research assistant. He graduated from the University of Utah with his Bachelor of Science in mathematics and has served as a research fellow for the Center for a Stateless Society. He has also previously worked as a program intern for the Law Economics Center at George Mason University, as well as a summer fellow at the Fully Informed Jury Association.