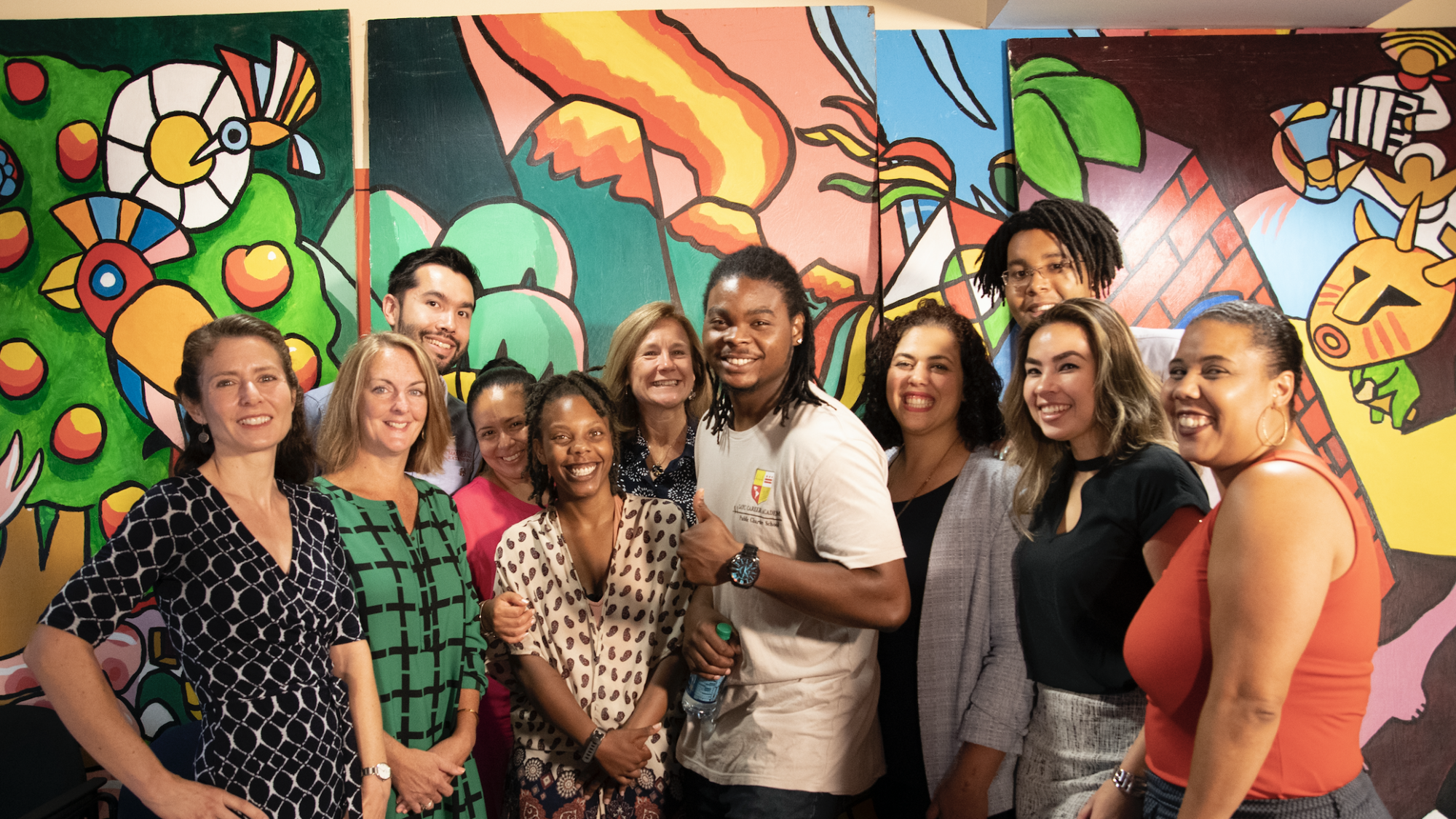 Category:

Society & Culture
Title:

Investing in the Front Line of the COVID-19 Crisis: Young People as Partners and Leaders
Date Published:
April 30, 2020
A young woman, social entrepreneur, and new mother in Mexico named Mariana recently told me, "solidarity and action are what will help us overcome this crisis. We aren't just waiting for the authorities to tell us what to do—we're organizing and doing it ourselves." Around the world, young women and men are taking action on the front lines of the COVID crisis, addressing the immediate needs of their communities—and beyond—and laying the foundation on which we will repair and rebuild.
In Chile, for example, a young entrepreneur named Daniela has pivoted her 3-D printing business to produce much-needed PPE components. A young business owner in Canada is leveraging his manufacturing industry assets and connections to produce N95 masks for small hospitals, fire and police units, and other frontline workers. In Kenya, Uganda, and Senegal, another youth-led nonprofit, co-founded by one of the International Youth Foundation's YouthActionNet fellows, is disseminating critical information to vulnerable communities while also promoting food security and helping farmers preserve their livelihoods during market disruptions and soaring seed prices. A young man from Sudan reached out over Facebook to describe how he and his peers are distributing gloves, disinfectants, and health and safety information to their communities. Teenagers from Baltimore to Casablanca have been contributing creatively to social media PSA campaigns. The list goes on.
Their resilience, innovation, and empathy are incredibly inspiring and critical to global recovery. Unfortunately, rather than being seen as essential partners in finding solutions, young people are too often viewed as a problem to be solved. Depictions of young people as violent, reckless, or self-obsessed are dangerous and do great disservice to the vast majority of young people who are peaceful, circumspect, and community-minded. Even when not viewed as problematic, young people are sometimes regarded—even in the development space—as passive beneficiaries. Their voices are left out of policy decisions that directly impact their lives and they are frequently not consulted in the development and design of "youth-focused" products and programs.
Spending my professional career with organizations that stand by, for, and with young people—twenty-five years at USAID, and now as President and CEO of the International Youth Foundation (IYF)—I know firsthand that young people are neither problematic nor passive. As the international development community continues to respond to immediate COVID-related challenges, and as we gear up for the heavy lifting to come, we must engage young people. Not just as beneficiaries, but as partners—and leaders—in finding solutions to problems that affect us all.
For IYF, the COVID-19 crisis has challenged us to lean into our mission and has reaffirmed the importance of the work we are doing together with the public and private sector, civil society, and young people themselves. Today, with a population of 1.2 billion young people between the ages of 15 and 24—the largest youth population in human history—the potential for powerful, youth-driven change is unlimited. Below are our recommendations for equipping the world's young people with the opportunities they need to lead recovery and create the future they want.
Economic opportunities for youth, and youth-led organizations, are critical for recovery. Historically, global unemployment amongst youth has been three times greater than unemployment amongst adults—and, according to the International Labor Organization (ILO), this trend will continue. Livelihoods have been dramatically impacted during the pandemic—and none greater than those of young people. The hospitality and service sectors, for example, have been hit extremely hard and will need to be rebuilt. Part of a youth-focused recovery effort must include the funding of skill-building and training programs that will equip youth with skill sets that meet the demands of the post-pandemic employment landscape. In addition, governments must engage and support youth-led businesses and organizations. Luiz, a young social entrepreneur from Brazil who founded Social Action for Equality of Differences explained, "usually, our revenue comes from consulting services we provide for companies, but during the crisis existing projects are being canceled." A youth-led social venture in India—People for Parity Foundation—rather than firing its forty young employees, is making thoughtful, need-based cuts to salaries, starting with organizational leadership, so that the most financially vulnerable employees will incur the smallest reductions. For our part, IYF is launching the Global Youth Resiliency Fund to support youth-led organizations like these who are fighting hard even as their funding sources disappear.
Governments and donors must invest in innovative learning solutions. The education system around the world is rapidly changing due to the pandemic. Brick-and-mortar schools and training facilities were among the first places to close their doors in an effort to slow the spread of the coronavirus. This was a necessary decision, but consequently 1.6 billion children and young people globally—more than 90 percent of the world's students—are not able to learn in their normal school settings. As a young social entrepreneur from Nigeria, the co-founder and a current board member of Afterschool Centre for Career Development, explained, the pandemic reaffirms the need to make learning "virus proof." A big part of "virus proofing" involves innovative digital and online learning options. In fact, there are many good, free resources that have been made available, for use by students, parents, and teachers. Of course, it is uncertain what the new normal will look like in terms of education—eventually, schools and training facilities will likely reopen their doors, but things will look and feel different. However, as IYF learned through our own mobile-first life skills program, Passport to Success Traveler, twenty-first century learners often demand hybrid learning opportunities, with digital learning as a key option. ThinkZone, a youth-led organization working to provide educational resources to students and teachers in rural India, is a great example of how in-class learning can be enhanced by a range of technologies—from online resources to simple text messages that support parents currently playing the role of teacher.
Global solutions must be driven at the local level to achieve systemic change. We live in a world that is more connected than at any other time in history.  As we have learned through this pandemic, the impact of a crisis in one country can easily ripple across the globe. That fact, laid bare in times of a world-wide health and economic crisis, is why global development through partnerships is so important. No one understands a problem clearer than those for whom it is a daily, on-the-ground reality. A young social entrepreneur who co-founded Development in Gardening (DIG), an organization working to strengthen food security in sub-Saharan Africa, summed it up when she said "if we don't let communities lead, we're really just applying a Band-Aid. But, when we let communities bring forth the solutions, they'll become more resilient and better able to respond to future challenges." At IYF, this is the core of our Transformation 2022 strategy, and we have heard this message echoed by other youth leaders during the COVID-19 crisis. Make no mistake, the most effective responses emerge at a local level.
As we roll out recovery plans, let us not forget that young people, and youth-led organizations, are on the front line in their own communities. Including them in the response is not only the right thing to do, it is critical to our long-term recovery.  More than just beneficiaries, waiting in the wings for members of an older generation to solve the problem, they are indispensable partners—and leaders—as we move from crisis response to recovery.
. . .
Susan Reichle is President and CEO of the International Youth Foundation, a global non-profit dedicated to equipping and inspiring young people everywhere to transform their lives. As CEO, Susan has overseen the revitalization of IYF's mission, vision, and values; guided the development and implementation of a new, three-year strategic plan, Transformation 2022; led the design of IYF's pivotal Gender Equity and Social Inclusion (GESI) policy; and championed practices of organizational transparency and data-driven accountability. Before joining IYF, Susan spent 25 years in leadership and advisory positions at USAID including as Counselor to the Agency, USAID's most Senior Foreign Service Officer. She serves on numerous boards and steering committees for organizations including the Eurasia Foundation, Solutions for Youth Employment (S4YE), the Alliance for International Youth Development (AIYD), and the Society for International Development (SID)—Washington Chapter. Susan is an avid social media user where she enjoys connecting with others—join her now on Twitter and LinkedIn.